My Retro Gaming Stream Station
This is my new setup for playing console games (or PC games) while streaming it to Twitch.TV. This new setup is MUCH better than my old setup.
Here is a video showing the setup in detail along with a quick tour of my crib:
My new setup will allow me to have 60fps RGB quality video for me and my stream with high compression, resolution, and bitrate!
Here are some images of the setup: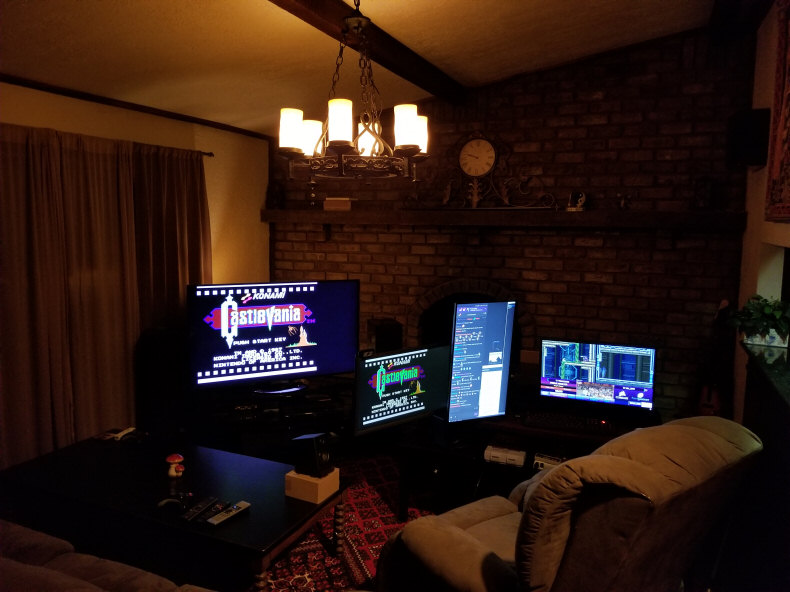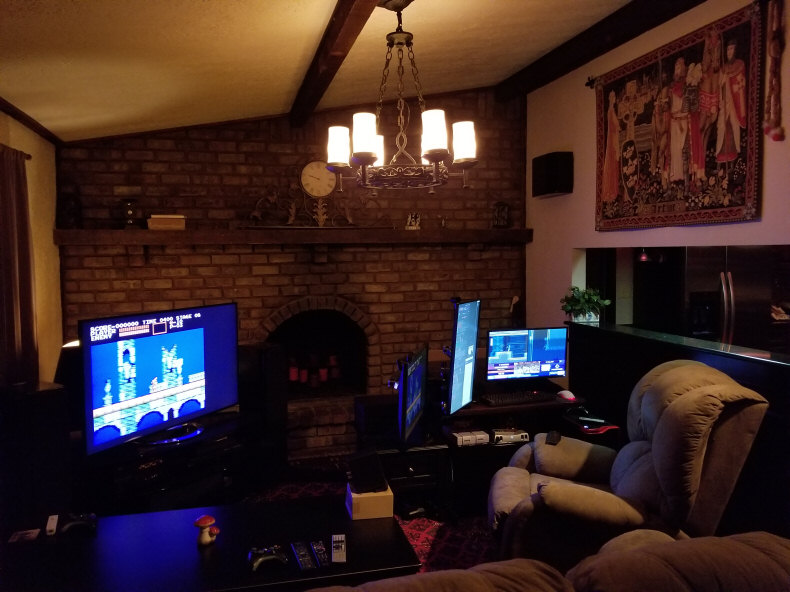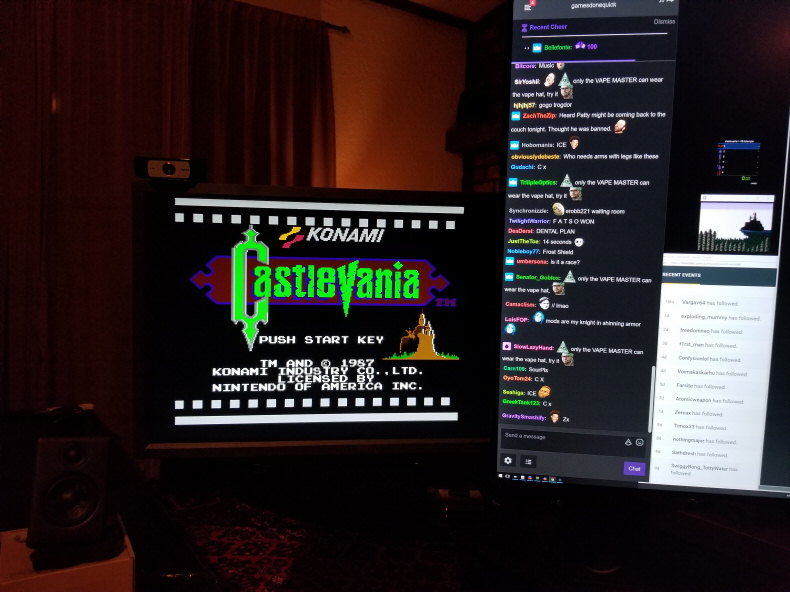 Here is all the components in detail:
Monitors:
Game Systems:
NES System - A modified NESRGB Toploader (with power LED and multi out RGB port).
SNES System - 1CHIP-01 SNES. I use Super Famicom controllers. I also have a Nakitek Game Saver for save state practice on actual console.
Sega Genesis - Sega Genesis Model 1 "High Definition Graphics" Console.
Xbox 360
Please note that I also have a Wii, but it is currently only hooked up to the TV set and not my stream station (I rarely use it). I also have a PS2, and that may get hooked up in the future, especially if I want to play SOTN.
Flash Carts I Have:
SNES - SD2SNES
NES - PowerPak
Genesis - Mega Everdrive
Other Peripherals:
Stuff "Behind The Scenes":
PC:
| | | |
| --- | --- | --- |
| CPU: | Intel Core i7-5960X (@ 4.4GHz) | This CPU will allow me to do basically anything I want. I can stream with high bitrate, compression, and resolutions with no problems. I can even play modern PC games from this while streaming it with high quality at the exact same time! |
| CPU Cooler: | Noctua NH-D15 | I ended up getting an air cooler instead of water cooling. From my research this heatsink/fan is just as effective at cooling as a top of the line AIO water cooler. And this air cooler works better with the case I got than using a water cooler. Plus i'll never need to worry about leaks and water evaporating overtime. This is also quieter than a typical water cooler. |
| Capture Card | Startech.com PCIe Capture Card | This is working good with OSSC so far. |
| Graphics Card: | MSI Geforce GTX 970 | This MSI card has great airflow and cooling compared to other brands. This card is becoming outdated now and will be updated eventually. |
| Mainboard: | Asus Sabertooth X99 | Great mobo with good heatsink over the entire board. |
| RAM: | Corsair Vengeance 16GB DDR4 3000MHz (4GB x4) | Corsair makes great RAM and 16GB is plenty right now. |
| Sound: | SoundBlaster Z | From experience I have definitely noticed that Sound cards do make a difference over onboard sound. The SoundBlaster Z card I have has many options and sounds great with my 5.1 surround sound setup. |
| Case: | NZXT H440 Mid Tower Case (Black/Red) | This is one bad ass case. Made for silent operation and great air flow at the same time. Lots of features and room in the case. There is no 5.25 drive bays, so no cd/dvd-rom slots, but that's no big deal, I just got a separate external cd/dvd drive in case I ever need it. Check out some images of my NZXT H440 Case at my computer desk. |
NOTE: You can watch me install this whole PC from scratch here if you like.
So yeah, go to my Twitch.tv page to learn more about what speed runs I am currently working on, and watch me LIVE when ever you feel like it :) You can follow my Twitch channel to be notified when ever I go live.
My Other Articles:




My Live Stream Setup
Check out my Twitch.TV Setup for Playing Console Games
- I finally got around to setting up my LIVE streaming for Twitch.tv. So feel free to watch me plow through the classic Casltevania games (for now), along with casual playthroughs for various other classic games.

My Cool Garage
Check out my Blacklight Garage!
- A cool idea you can do with your garage is turn it into a blacklight party room. Check out my blacklight garage to get ideas for your own..