Ana In-depth Strategy Guide

( FP's Overwatch Strategy Guide )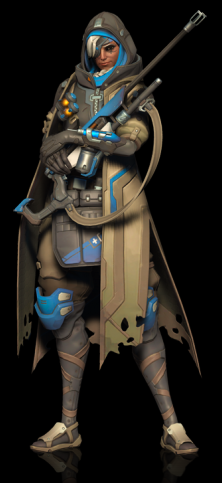 Coming out of Cairo, Egypt, Ana is the mother of Pharah who is an elite sniper specializing in supporting allies and damaging enemies from a distance with her Biotic Rifle and grenades. Ana brings a lot of game changing abilities to Overwatch. Ana's Rifle can be shot at allies to heal them or at enemies to damage them. Ana's play style involves taking cover as much as possible while having her allies in view to heal them with her biotic rifle or grenades.
Ana's grenades not only heal allies or damage enemies but it also alters healing effects for all players. Allies struck with a Biotic Grenade will have double the healing effects while enemies will receive no healing benefits from all potential sources. Ana can even throw her Biotic Grenade at the ground near her to receive the benefits as well.
Ana brings some game changing utility to the table with her Sleep Darts. Being able to fire Sleep Darts at her enemies can disable them from combat for a short period of time. This provides great crowd control and also serves as a way to protect herself from close one on one encounters or deadly enemy ultimates.
Ana's ultimate Nano Boost turns one of her allies into a killing machine for a short period of time, giving them faster attack rate and damage mitigation. This can be very deadly when combined with certain allied heroes and their ultimates.
Ana's weakness is her lack of mobility and she can be prone to offensive flankers like Genji, Tracer and Reaper. Even though Ana can use a Sleep Dart on these heroes to disable them for a short period of time, it can be difficult to aim Sleep Darts at these fast moving offensive heroes.
Name: Ana Amari
Difficulty: Hard
Role: Support
Age: 60
Occupation: Bounty Hunter
Base of Operation: Cairo, Egypt
Release Date: COMING SOON! (Available now on PTR Realm)
Main attacking weapon

Ana's rifle shoots darts that can restore health to her allies or deal ongoing damage to her enemies. She can use the rifle's scope to zoom in on targets and make highly accurate shots.

Ammo:

10


Damage Enemy:

60 per shot


Heals Ally:

75 per shot


Fire Rate:

1.2 rps


Reload Time:

1.5 sec


Headshot?:

no


Default Hotkey:

LM


Scoped Mode Default Hotkey:

RM
Ana's Biotic Rifle serves two main purposes: To heal her allies and to damage her enemies by simply shooting either one.
Biotic Rifle Mechanics
One shot to an enemy does 60 damage over one second.
One shot to an ally does 75 healing over one second.
When shooting an ally, you will see a visual cloud over the ally along with an audio beep as well.
Ana can fire one round every 0.8 seconds, so effectively she can heal 90 per second if she lands all shots on allies that need healed, or deal 96 damage per second against enemies if all shots were landed.
There is no fall-off distance damage.
Both scoped and unscoped shots will share the same target hitbox sizes.
Unscoped shots fire fast moving projectiles that have no arks.
Scoped shots share the same ammo pool, firing rate and damage as unscoped but scoped shots fire hitscan bullets (no travel time). Hitscan bullets is one of the main benefits of scoped shots. Because of this, scoped shots are great for long range firing.
There are no headshots with the Biotic Rifle. Focusing on aiming at body shots to heal allies or damage enemies makes things a bit easier.
Allies will have bigger hitboxes than enemies by about 50%. This makes shooting at allies a much easier target than enemies. This should also effect your decision to shoot at allies more often than enemies.
Ability with cooldown

Ana fires a dart from her sidearm, rendering an enemy unconscious (though any damage will rouse them).

Cast Time:

.25 seconds


Duration:

5 seconds


Damage:

5


Cooldown:

12 seconds


Headshot?:

no


Default Hotkey:

Shift
Ana's utility weapon, Sleep Darts, provides a great way to disable an individual enemy from battle. Sleep Darts serves multiple uses, the main ones include: crowd control, stopping enemy ultimates, and providing Ana with an escape mechanism.
Sleep Dart Mechanics
Sleep Darts can damage things that are constructed.
Zenyatta is immune to Sleep Darts while having Transcendence on, but your still able to put other enemies to sleep under the Transcendence.
Shields, barriers and D.va's Defense Matrix will block Sleep Darts.
Crowd Control
Disabling an enemy from combat with a Sleep Dart can make things much easier for your team. Although one of the main issue with putting an enemy to sleep is that your allies will be tempted to fire at the sleeping target, which will wake the enemy. It is usually good practice to let your allies know which enemy you put to sleep and possibly where that enemy is at.
Stopping Enemy Ultimates
One of the greatest advantages of Sleep Darts is being able to put an end to an enemy ultimate. This can have a huge impact on the game.
Easy (and important) Ultimate Targets for Sleep Darts
The following enemy ultimates are not only very important to stop by they are also easy to aim Sleep Darts at since the hero becomes either stationary or moves extremely slow while using their ultimate. Also, a Sleep Dart will put an actual end to these ultimates.
McCree's Deadeye
Pharah's Barrage
Reaper's Deathblossom
Roadhog's Whole Hog
Other (less important) Hard to Aim Ultimate Targets
Please note that not only are the ultimates below going to be harder to aim at, if one of your allies attacks the sleeping target, the ultimate will continue when he/she awakens.
Winston's Primal Rage (Although Primal Rage's big hitbox can make aiming Sleep Darts a bit easier)
Genji's Dragonblade
Soldier 76's Tactical Visor
Bastion's Tank Form
Torbjorn's Molten Core
Ana's Nano Boosted Ally
Please note that Lucio's ultimate Sound Barrier is a good counter to Ana's Sleep Dart as it will cancel out any enemy that is sleeping from a Sleep Dart.
Ana's Escape Mechanism
Ana's main weakness overall his her lack of mobility, which can make it hard to run away from offensive flankers. But Sleep Darts provides a nice solution to this problem. When being flanked by offensive heroes such as Tracer, Genji and Reaper the best thing you can do to these heroes is to fire a well aim Sleep Dart at them to allow yourself to run away from them before they do any damage to you.
Hard To Aim
One of the main issues with Sleep Darts is that they can be very difficult to aim, especially at targets from a long distance or at fast moving targets up close. Even though Sleep Darts have no ark and travel somewhat quickly, Ana has a .25 second cast time which contributes to the difficult process of aiming them. Being able to use this ability only once every 12 seconds means you could be "wasting" a lot of its potential if you keep missing targets. With this in mind you should consider saving Sleep Darts for when you know you will have a higher chance of landing it successfully on a target. Some of this will come with practice, but here are some tips on letting you know which targets are easier to aim at.
Easy Targets to Aim Sleep Darts At
Heroes with big hitboxes such as: D.va, Reinhardt, Roadhog and Winston.
D.va when she is firing her Fusion Cannons (she moves extremely slow when firing).
A stationary Bastion Sentry, easy hit and a very important target as well.
Slow moving enemy ultimates such as: Pharah's Barrage and McCree's Deadeye (these should be high priority targets as well).
Enemies in a hallway or tightly confined spaces will make aiming Sleep Darts easy since the enemy will have little room to dodge them.
Places where the enemy is highly prone to travel to. Sometimes simply spamming a Sleep Dart from long distance will be your only option for the time being, knowing which spots to spam at can make things easier. I might make video guides on these spots later.
Ability with cooldown

Ana tosses a biotic bomb that deals damage to enemies and heals allies in a small area of effect. Affected allies briefly receive increased healing from all sources, while enemies caught in the blast cannot be healed for a few moments.

Cooldown: 10 seconds
Duration: 4 seconds
Heals Allies: +100 for all allies in the vicinity (including Ana herself). Plus doubles all healing effects.
Damages Enemies: -60 for all enemies in the vicinity.
Default Hotkey: E
Ana's Biotic Grenades have similarities to her Biotic Rifle, in which it has the capabilities to heal allies and damage enemies in a small blast radius, but where things differ is in its healing effects for both enemies and allies. Biotic Grenades will double all healing effects to allies and will prevent all healing on enemies for its duration for those struck in the blast radius.
When a hero gets struck by Ana's Biotic Grenade, their health bar will look like this:
Other Mechanics of Biotic Grenade
Biotic Grenade flies fairly far with an ark.
If thrown very far (especially up into the air) it will eventually explode before hitting something.
Biotic Grenades do damage to things that are constructed, including: Junkrat's Traps/Mines/Rip-Tire, Symmetra's Sentry Turret/Teleporter, Torbjorn's Turret.
Enemy shield HP will still be able to regenerate while under the influence of a Biotic Grenade.
Let's explore the potential of this ability by examining the healing effects from various allies and how much it will be increased by with a Biotic Grenade.
Biotic Grenade's Healing Potential
Ana's Biotic Rifle: Normally 75hp per shot. This increases to 150hp per shot with a Biotic Grenade!
Mercy's Caduceus Staff: Normally 50hp per second (only one ally at a time). This increases to 100hp per second with a Biotic Grenade!
Soldier 76's Biotic Field: Normally 35hp per second (for all allies standing in the field). This increases to 70hp per second with Biotic Grenade!
Lucio's Crossfade Healing Aura: Normally 15.6 hp per second (for all allies within 30 meters of Lucio's line of sight). This increases to 24hp per second with Biotic Grenade!
Lucio's Amp It Up with Crossfade Healing: Normally 51 hp per second for 3 seconds (once every 12 seconds). This increases to 80hp per second with Biotic Grenade!
Zenyatta's Harmony Orb: Normally 30hp per second (only one ally at a time). This increases to 60hp per second with Biotic Grenade!
Zenyatta's Ultimate Transcendence: Normally 300hp per second. This increases to 600hp per second with Biotic Grenade!
And also keep in mind all these healing sources will become zero when used against enemy healers!
Biotic Grenade Tips Against Enemy Healers
Knowing when to use a Biotic Grenade against enemy healers is very important and here is a top list of the most important ones to look out for:
Zenyatta's Ultimate Transcendence - When you see an enemy Zenyatta using his ultimate throw a Biotic Grenade right on enemies around him to prevent all of his healing for his allies within the blast radius of the Biotic Grenade. Keep in mind that Zenyatta is immune to the Biotic Grenade himself while under Transcendence.
Soldier 76's Biotic Field - Biotic Fields are stationary and makes for an easy Target for Biotic Grenades. Simply throw a Biotic Grenade at enemies standing in the Biotic Field to disable its healing effects.
Allies Around Lucio - Throwing a Biotic Grenade at enemies near Lucio and his heal aura will prevent all his healing for a short while (especially when he uses Amp It Up).
Mercy's Caduceus Staff - See an enemy Mercy healing an ally who needs healed? Simply throw a Biotic Grenade on that enemy that Mercy is healing to prevent all of Mercy's healing for Biotic Grenade's duration.
Zenyatta's Harmony Orb - See an enemy trying to flank your team with the Harmony Orb on him? Simply throw a Biotic Grenade on that enemy to disable the healing effects of the Harmony Orb on him.
Ana's Own Healing Source
One of the main benefits of Biotic Grenades is that Ana can use it to heal herself by throwing it at the ground or a surface near her. This comes in handy for many situations, especially when dealing with flankers. When you have to deal with close up enemy flankers such as Tracer, Reaper and Genji, aiming a Biotic Grenade at them so it also hits you as well will damage them by 60 and heal you with 100, this will have a huge impact for one on one fights. You can even combo this by using a Sleep Dart to increase your chance of surviving close up one vs one fights.
Communication
Biotic Grenades have very strong capabilities to heal allies, but one of the main issues with Biotic Grenades is its small blast radius, which can make healing allies with it a tough task. Its wise to actually have a strategy with your team to have a vocal warning ahead of time that you will be throwing out a Biotic Grenade with the purpose of healing allies. With this strategic announcement, allies will know to move to a central spot to receive its healing benefits. This spot can be your team's tank, or a specific ally mentioned during your announcement. For example you can say this to your allies: "Throwing a Biotic Grenade at Reinhardt in 3 seconds".
ULTIMATE




Ultimate Ability

After Ana hits one of her allies with a nano boost, they temporarily deal more damage, and take less damage from enemies' attacks.

Duration: 8 seconds
Damage Output: +50%
Damage Reduction: -50%
Default Hotkey: Q


Ana's ultimate turns one of her allies into a killing machine for 8 seconds by the use of nano bots. Nano Boost will increase the damage output and damage reduction of the ally that receives it.
Knowing If you Have Been Nano Boosted
If you have been Nano Boosted by Ana, you will see a bluish hue across the edges of your screen along with lightning flares coming from the edges as well. Your arms and weapon will sport electricity flowing through them and you will hear a constant electric sound for the entire duration of the ultimate.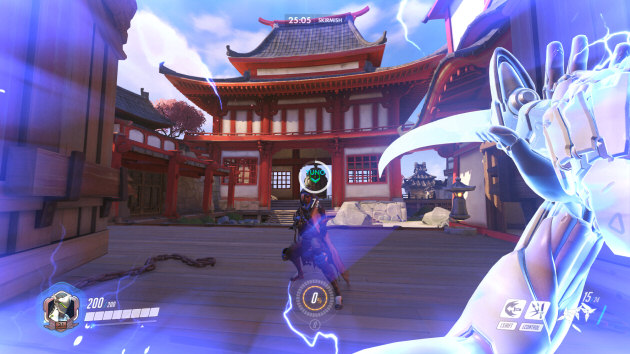 Players will look like this in-game:
NOTE: Enemies will have reddish orange lightning instead.
Allied Ultimates that benefit the most from Nano Boost
Genji's Dragonblade Nano Boosted is a very powerful synergy. Normally Genji is vulnerable while using his ultimate but with increased damage reduction he has little to worry about and will be able to attack enemies much more effectively while Nano Boosted.
Soldier 76's Tactical Visor Nano Boosted will make him a harder target to take down and the aim bot of Tactical Visor will be extremely deadly.
Reaper's Death Blossom is already very powerful, but when Nano Boosted he will be able to survive better if he gets targeted by a lot of enemies and take down enemies much faster.
Bastion's Tank Form Nano Boosted is one scary tank, being able to deal more damage and withstand more damage makes Nano Boosting Bastion's Tank Form very effective.
Torbjorn's Molten Core Nano Boosted turns Torbjorn into one scary dwarf. Even though his turret will be unaffected by the Nano Boost, Torbjorn himself will be able to do a lot of DPS while being practically invulnerable for Nano Boost's duration.
Hanzo's Dragonstrike does a damage over time effect and with Nano Boost it will simply do more DPS ensuring the death of Hanzo's victims more effectively.
McCree's Deadeye becomes stronger, making it quicker for McCree to line up kill shots, which in turn makes it safer for him to use it.
Roadhog's Whole Hog Nano Boosted allows him to be at ease knowing he will be able to get more use out of his ultimate and less chance of death since he cannot cancel his ultimate while in use. Whole Hog does not do a ton of damage normally, but with Nano Boost, Whole Hog becomes more viable as a damage dealer as well.
Pharah's Barrage is normally very deadly, but she is also very vulnerable while using it. When Nano Boosted she can withstand more damage while casting Barrage while also ensuring enemies will die quicker as well, thus increasing the chance of her survival while Barraging.
Overall Best Candidates For Nano Boost
Ultimates aside, here is a rough list of the best allies to Nano Boost:
Reaper

- Nano Boost tends to be very valuable for allies who excel at doing extreme damage in close range, and Reaper is right up there at the top with that.

McCree

- Nano Boost allows McCree to position himself safer for more unpredictable Flash Bang throws. Along with the increased damage output of his revolver and damage reduction makes McCree an excellent choice for Nano Boost.

Zarya

- Zarya can be very beneficial to Nano Boost, especially if her Particle Gun is already charged up. Zarya will greatly benefit from all aspects of Nano Boost making her one tough beast to take down.

Reinhardt

- Reinhardt's Rocket Hammer is devastating in close range, Nano Boost allows Reinhardt to safely get into close range to start hammering away at all his enemies with increased damage and protection at the same time.

Pharah

- Increased rocket damage and reduced damage while Pharah is flying around makes Nano Boosting Pharah a great option.

Bastion

- The increased damage output and damage reduction from Nano Boost can make Bastion a much more powerful defense.

Tracer

- Nano Boost makes Tracer's nature of being pesky much more peskier. With the increased damage reduction she will be incredibly hard to take down. The increased damage output will allow her to do her flanking duties much more effectively. Nano Boost also increases Pulse Bomb damage, which can be used on high HP heroes such as tanks to ensure the death of them.

Roadhog

- Nano Boost allows Roadhog to safely move around to line up Chain Hook throws more efficiently. The increased damage reduction and damage output allows him to be much more aggressive at doing basically what ever he wants to do without too much worry.

Soldier 76

- Nano Boost makes Soldier 76 a more overall effective damage dealer and a harder target to take down thanks to the increased damage reduction.

Junkrat

- The extra damage output and damage reduction turns Junkrat into a wild killing machine if put into the right hands. Keep in mind there is no point in Nano Boosting Junkrat if he is going to use his ultimate Rip-Tire, as it has no effect on it.

Hanzo

- Giving a highly skilled Hanzo player Nano Boost can be extremely deadly.

Torbjorn

- Nano Boosting Torbjorn allows him to safely move into the front lines to pick up Scrap while also dishing out more damage as well. If he decides to use his ultimate Molten Core with it he will get a lot more use out of it.

Genji

- If put into the right hands, a Nano Boosted Genji can be devastating. Overall Genji's DPS is a tad on the weaker side, but with Nano Boost he can do his flanking duties much more effectively while being able to not take as much damage. And remember, Genji will get a lot of use out of Nano Boost with his ultimate Dragonblade.

Winston

- A Nano Boosted Winston will be annoying to deal with as he will be able to easily catch up to his enemies faster thanks to the increased speed of Nano Boost and will be able to soak up much more damage, providing his role of a tank much more effectively.

Mei

- Mei's short range frost stream is a tad on the weaker DPS side and her purpose is to freeze enemies and then let her allies take the frozen enemies out. Even though her frost stream will do a bit more damage with Nano Boost, it won't freeze enemies any faster, so her frost stream does not benefit a whole lot from Nano Boost. However, the increased damage reduction allows her to move up close to her enemies safer to make her a harder target to take down, allowing her to possibly freeze more enemies.

D.va

- The increased damage reduction and damage output can allow her to safely stay in the front lines to soak up damage and kill enemies up close with her Fusion Cannons more effectively. Nano Boost has no effect on D.va's ultimate Self-Destruct and D.va will lose Nano Boost if she activates her ultimate.

Zenyatta

- In general, Nano Boosting other support heroes tends to be inefficient due to the reduced damage output of support heroes in general and their main roles are to heal anyways and Nano Boost does not increase healing. But Zenyatta has the highest DPS out of all the support heroes and can take better advantage of Nano Boost's increased damage output. The extra damage reduction only makes him more effective at throwing his orbs around and absorbing extra damage. Nano Boosting Zenyatta's Transcendence is virtually pointless and will be a waste.

Widowmaker

- Nano Boosting Widowmaker is low on the list, mostly because as a backline sniper she does not take too much advantage of increased the damage reduction, but the increased damage output of Nano Boost can make Widowmaker very deadly.

Symmetra

- Nano Boosting Symmetra is usually a poor choice, but it can allow her to move into the front lines more efficiently to deal damage with her short range Projector Beam, which will allow her to rev up her ultimate Teleporter faster in return.

Lucio

- The main drawback of Nano Boosting Lucio is his lack of DPS and you will most likely have better choices of allies to Nano Boost that does much more damage.

Ana

- There is virtually no point in Nano Boosting another Ana, as her DPS is very poor and she has no reason to move in the front lines to do any harassing anyways. Nano Boost also does not increase the healing rate of Ana's abilities.

Mercy

- Since Mercy spends most of her time healing allies she would be a poor choice to Nano Boost. Although the increased damage reduction of Nano Boost can allow her to survive a bit longer.
Ana's Strength and Weaknesses Vs Other Heroes
News/Home | Blog | Follow | Unlock Full Guide
Overwatch Basics Guide Menu
Overwatch Hero Introductions - Basics Guide
How the Mechanics Work in Overwatch
How Headshots Work In Overwatch
Overwatch Game Modes Overview
Overwatch Health Types & Hitpoint Basics
Overwatch Terms, Abbreviations, & Their Meanings
Other Guides
Easiest and Hardest Overwatch Heroes to Master
My Hotkey Bindings For Overwatch & Why I Use Them