Bastion In-depth Strategy Guide

( FP's Overwatch Strategy Guide )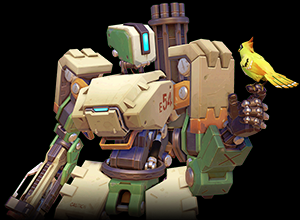 Bastion is a unique robot defensive hero that has two main configurations: a walking mobile shooter and a stationary powerhouse with a gatling gun. He also has a 3rd configuration (his ultimate), which turns him into a mobile tank that shoots cannons in a large blast radius which is very effective for just about any situation. Bastion can provide his team with a very powerful stationary DPS defense that is great at guarding objectives, choke points and establishing a front for his team. However, Bastion's superior DPS is not without his drawbacks. He is immobile when in Sentry mode, even though he can turn 360 degrees. Enemies that hit Bastion in the rear while in Sentry mode will do double the damage to him, so you will need to watch out for offensive flankers that come from behind.
Name: SST Laboratories Siege Automaton E54
Difficulty: Easy
Role: Defense
Age: 30
Occupation: Battle Automaton
Base of Operation: Unknown
Release Date: 10-27-2015
Base Hitpoints: 300 - (100 of it is armor)
Main attacking weapon (Recon Mode)

In Recon mode, Bastion is fully mobile, outfitted with a submachine gun that fires steady bursts of bullets at medium range.

Ammo:

25


Rate of fire:

8 rps


Damage:

6-20 per shot (fall-off distance damage)


Reload Time:

2 seconds


Headshot?:

YES




Default Hotkey:

LM
Bastion's submachine gun in Recon Mode only does an ample amount of damage to short and medium range. Accuracy will decrease the longer you hold down the fire button, so you may want to do short pulse shots (rapidly pressing the fire button) for longer range targets to increase your accuracy. While in Recon Mode, Bastion really doesn't do anything special and is overall a pretty weak target. Because of the lower DPS in Recon Mode, you should always be on the lookout for places to go into Sentry Mode so you are able to dish out good DPS to your enemy.
Main attacking weapon (Sentry Mode)

In Sentry mode, Bastion is a stationary powerhouse and equipped with a gatling gun capable of unleashing a hail of bullets. The gun's aim can turned 360 degrees and "walk" across multiple targets, dealing devastating damage at all ranges. While in Sentry Mode, Bastion takes double the damage from behind.

Ammo size:

300


Rate of Fire:

30-40 rps


Damage:

4-15 per shot


Reload Time:

2 seconds


Headshot?:

NO


Default Hotkey:

LM
While in Sentry Mode, Bastion is able to turn and shoot in 360 degrees. His headshot area changes to the behind instead of the front.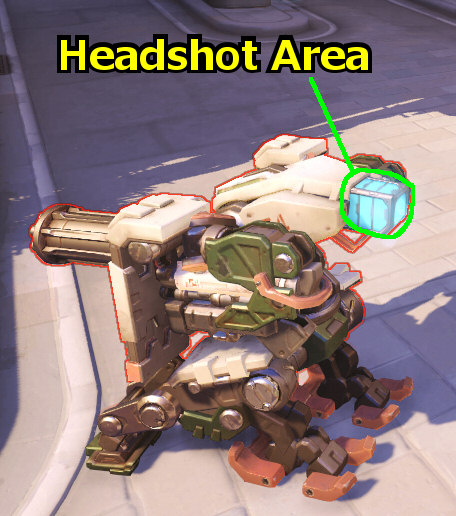 Because of the extreme vulnerabilities from the rear, it's generally a good idea to plant yourself in Sentry Mode up against a wall or corner so that it will be harder for enemies to flank you from behind. If you are setup in the open you will need to be constantly aware of your surroundings and watch your back from flankers, especially from offensive heroes like Tracer, Genji, and Reaper.
Sentry Mode is extremely valuable for setting up strong choke points, fronts, guarding objectives, and providing great DPS to supplement your whole team. Sentry Mode is powerful when placed on top of the Payload, serving as a moving powerful defense. Another tactic that seems to work very well with Sentry Mode is being able to get up higher. Getting up higher gives Bastion a larger field of view to fire at, more hidden from his enemies, safer and more protective. An allied Mei can use her Ice Wall ability to lift up a Bastion to get to some of these higher areas.
Later on I plan on making in-depth guides and videos showing you all the best spots for Sentry Mode and places where an allied Mei can use her Icewall ability to lift up a Bastion to higher areas he couldn't reach otherwise.
Some more tips while in Sentry Mode:
If you run out of ammo and you are being attacked, you are better off switching to Recon Mode to continue firing, because it only takes 0.5 seconds to switch to Recon from Sentry and it will fully reload your weapon in the process (reloading in Sentry Mode takes 2 whole seconds).
The 2 seconds spent while reloading is a good time to sway around your area to scout things out to see if there are more enemies to shoot at, or to watch out for offensive flankers.
Always keep an eye out on your health and make sure you are healed up. Use Self-Repair to keep your health up, especially when not firing at enemies.
It takes 6.5 whole seconds to unload a full Sentry Mode clip. It's good to keep a mental note of this so you know when you need to either reload or uplift elsewhere to reload.
Passive Ability

Bastion takes 20% less damage while in Configuration: Sentry or Tank.
This passive ability simply allows Bastion to be more "tanky" while in Sentry mode or Tank Mode (ultimate).
Ability with cooldown

Bastion transforms between its two primary combat modes to adapt to battlefield conditions.

Cast Time:


Recon to Sentry: 1 second.
Sentry to Recon: 0.5 second.



Default Hotkey:

Shift
Using Reconfigure also reloads your weapon. Because of this, it's a good tactic to Reconfigure out of sentry mode when you get low on ammo to accomplish two things: moving somewhere else to plant a Sentry while also reloading your weapon.
It's important to not stay in Sentry mode in the same place for too long. If the majority of the enemy has spotted you and you are taking damage, then that is the point in which you should consider Reconfigure to Recon to reposition elsewhere. By constantly changing where you use Sentry mode at you will confuse the enemy on your whereabouts and they will have a harder time predicting where you will be at.
Reconfigure Jump
A little trick you should be aware of is that you can jump forward while initiating a Reconfigure to Sentry Mode. This can give you a little extra movement until a Sentry is ready. You can also jump down from a high spot while Reconfiguring, so when you land on the ground, Sentry Mode will be ready for you.
Ability

Bastion restores its health; but he cant fire his weapons while the repair process is in effect.

Cast Time:

Channeled


Heal Amount:

25% of total health per second


Default Hotkey:

Alt Fire
Bastion can use his Self-Repair ability in all modes (even during his ultimate). Self-Repair allows Bastion to never worry about reaching health packs since his mobility is not so great anyways to get to them quick enough. When not firing at enemies, you should constantly make sure you are fully healed up via Self-Repair.
ULTIMATE




Ultimate Ability

In Tank mode, Bastion extends wheeled treads and a powerful long-range cannon. The cannon's explosive shells demolish targets in a wide blast radius, but Bastion can only remain in this mode for a limited time

Default Hotkey:

Q


Ammo:

infinite (no reloading)


Duration:

8 seconds


Cast Time:

1 second


Fire Rate:

1/second


Damage:

190 (direct hit) - Splash damage varies.


Range:

4 meters


Self Damage:

up to 40 self damage.


Headshot?:

no


While in tank mode, Bastion can freely move around and shoot very powerful cannon balls that fly somewhat in an ark and have a very large blast radius.
When to use Tank Form
When initiating a push - When on the attackers team, Tank Form gets a bit more use because it can be use to make pushes towards objectives more successfully. This is best combined with a protection from another ally (as discussed below).
When there are a lot of enemies together in a confined space - The splash damage from your cannons will end up being more useful in this situation than Bastion's Sentry Mode gatling gun.
To save yourself from getting ambushed - Having your ULT ready while in Sentry Mode is actually a good way to protect yourself from flankers. If you see yourself getting attacked from behind while in Sentry Mode, turn your ULT on to save you and kill anyone around you quickly.
Because of the large blast radius, Bastion's Tank Form pairs well with some other hero abilities, including:
Tank form is powerful when combined with Zarya's Graviton Surge (gravitates enemies close together), so Bastion can just shoot cannons at it.
Mei's Blizzard or Ice Walls help to prevent enemies from running away, giving Bastion easy shots with his cannons.
While in Tank Form, Bastion will be a prime target to his enemies. These tips can be used to further protect him while in Tank Form:
Lucio's ultimate Sound Barrier helps protect Bastion while in Tank form by providing a large amount of shields for short period of time.
Allied Zarya's Projected Barrier.
Getting inside Winston's Barrier Projector is a good strategy.
Reinhardt's Barrier Field (shield) provides Bastion for cover while using his ULT. Reinhardt's ULT (Earthshatter) is very protective while in Tank form as well.
Getting Zenyatta's Orb of Harmony while in Tank Form is a very powerful combo.
Soldier 76 can put down a Biotic Field to keep you healed up.
Mercy can be with you to damage boost and heal you.
Cannon Jump
While Bastion is in Tank Form he can perform a cannon ball jump (similar to a rocket jump from quake) by looking down at the ground, jump and then fire a cannon. Bastion will be propelled into the air about 3 times higher than a normal jump. This can potentially allow him to get up to higher spots that he couldn't get to otherwise. Getting to higher spots can help him get away from deadly heroes such as Reinhardt, Reaper and McCree. This can also position himself better to fire another cannon in mid air to hit his enemies with.
Bastion's Strength and Weaknesses Vs Other Heroes
Bastion's Allied Synergies Guide
News/Home | Blog | Follow | Unlock Full Guide
Overwatch Basics Guide Menu
Overwatch Hero Introductions - Basics Guide
How the Mechanics Work in Overwatch
How Headshots Work In Overwatch
Overwatch Game Modes Overview
Overwatch Health Types & Hitpoint Basics
Overwatch Terms, Abbreviations, & Their Meanings
Other Guides
Easiest and Hardest Overwatch Heroes to Master
My Hotkey Bindings For Overwatch & Why I Use Them