Junkrat In-depth Strategy Guide

( FP's Overwatch Strategy Guide )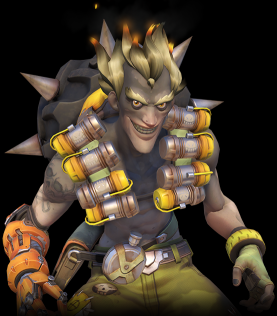 "Let's blow things up!" Junkrat is a self-made killing machine consisting of junkyard demolition scrap that he assembled together to obliterate his enemies with. Junkrat is listed as a defensive hero even though he also does great on the offensive side as well. His Frag Launcher lobs grenades that forcefully keeps his enemies away from his team and since they can bounce off walls it has many versatile uses on the battlefield. Junkrat's mines can be used defensively to blow enemies up or used offensively as a means of mobility allowing him to jump real high to surprise attack his enemies, or to help him retreat out of a losing battle. His traps are great enemy stabilizers that work great in conjunction with his mines and gives his allies a much easier target to aim at. Junkrat's ultimate Rip-Tire is a remote controlled wheel with a powerful explosive attached to it that when triggered, explodes in a large blast radius.
Name: Jamison Fawkes
Difficulty: Medium
Role: Defense
Age: 25
Occupation: Anarchist, Thief, Demolitionist, Mercenary, Scavenger
Base of Operation: Junkertown, Australia
Release Date: 10-27-2015
Base Hitpoints: 200
Main attacking weapon

Junkrat's Frag Launcher lobs grenades a significant distance. They bounce to reach their destination, and blow up when they strike an enemy.

Ammo:

5


Fire Rate:

5 in 3 seconds (or 1.5 per second)


Damage:

120 (direct hit) - up to 80 splash damage and NO self damage.


Reload:

1.5 seconds


Headshot?:

no


Default Hotkey:

LM
Junkrat's Frag Launcher is the spammiest weapon in the game. Being able to bounce the grenades off of walls and corners enables Junkrat to stay out of line of sight from his enemies while still being able to shoot at them. This is one of the reasons that makes Junkrat a very lethal defensive hero. Spamming grenades in the enemies' general direction keeps them away from you and makes it much harder for them to push forward. The grenades will explode shortly after the 3rd bounce.
One important use of the Frag Launcher is to kill a Bastion Sentry, as you can usually fire your grenades while out of Bastion's line of sight.
Junkrat's Frag Launcher works very well in conjunction with Widowmakers Infra-Sight or Hanzo's Sonic Arrow. Being able to see enemies behind walls helps tremendously with bouncing nades off of walls to hit enemies where you normally couldn't see.
The biggest drawback of the Frag Launcher is that it's very difficult to hit objects in the air, such as heroes like Pharah. Because of Pharah's superior air mobility, she is actually the best counter to Junkrat.
Ability with cooldown

After placing one of his homemade Concussion Mines, Junkrat can trigger it to damage enemies and send them flying... or propel himself through the air.

Cooldown:

8 seconds


Damage:

120 (does no self damage)


Headshot?:

no


Default Hotkey:

Shift
Concussion Mine is Junkrat's main utility weapon. Mines can be used for both as a means for dealing damage to your enemies or as a means of mobility. For mobility, Junkrat can use it to propel himself high into the air to get to high up ledges you normally couldn't get up to. You can use it during a battle to confuse your enemies and make you a harder target to hit. The mines do no damage to Junkrat and also can make you move forward faster, so it can be useful for getting back to the fight faster after dying.
Two ways to do a Mine jump:
You can jump first, then detonate the mine and Junkrat will fly higher and farther.
You can simply walk over the mine without jumping and you will be propelled not as high and not as far.
Most of the time I recommend jumping first, but only use the non jump method if you don't want to go as high, incase you might hit something on the ceiling or an obstacle.
Advanced Double Mine Jump
Junkrat can do two mine jumps at once to propel himself further and higher by first throwing a mine on the ground and when the cooldown resets you walk up to the mine and jump at it, then detonate it and quickly throw down another mine and detonate that one quickly as well. This sequence requires practice to get it down better. This can help Junkrat get to extremely high up areas he couldn't get to otherwise.
Here is a list of useful tactics Mines can be used as a damage dealer to your enemies:
As a quick pipe bomb. If you see a lot of enemies in front of you, simply lob a mine and detonate it quickly to deal a lot of damage.
To throw enemies off the map. Mines not only send Junkrat high in the air, but enemies too. You can strategically place a mine next to a pit and detonate it so it will make an enemy fly to their death.
In conjunction with an Allied Zarya's ultimate Graviton Surge (clumps enemies up together). Simply lob a mine at the enemies stuck in the surge to blow them up.
To guard choke points. One of the most useful ways to use a mine is to guard choke points in conjunction with a steel trap (more info below):
Please note that Mines can be shot at and killed by the enemy, so placing them in not so obvious spots such as right behind a corner instead of right in the open, can be useful for keeping them alive. Unlike Tracer's Pulse Bomb, Junkrat's Mines cannot stick to enemy heroes.
Ability with cooldown

Junkrat tosses out a giant, metal-toothed trap. Should an enemy wander too close to the trap, it clamps on, injuring and immobilizing them.

Cooldown:

10 seconds


Damage:

80


Duration:

3 second trapped in place (enemies can still use abilities), they just cannot move.


Headshot?:

no


Default Hotkey:

E
Junkrat can only have one Steel Trap out on the map at a time and you will have an indicator on screen letting you know if someone triggers your trap. Steel Traps completely immobilizes enemies for 3 second, deal an ample amount of damage, and there is not much they can do to escape the trap. Enemies can still fire their primary weapon while being trapped along with being able to use their abilities (but no movement abilities). Allied Steel Traps do no harm to your own team and they will be more easily visible than enemy Steel Traps.
Steel Traps are usually placed at choke points leading up to objectives or other spots where the enemy can push forward to. They can be used real close to you to protect yourself from enemies approaching you, such as to protect yourself from a Charging Reinhardt, or a Tracer blinking up to you.
Trap / Mine Combo
A very powerful combo Junkrat can do is put down a Concussion Mine right next to a Steel Trap. When you see the indicator on your screen that someone fell into your Steel Trap, quickly detonate your Concussion Mine to finish the victim off. This is extremely deadly and I recommend using this deadly combo quite a bit. Only a few heroes can save themselves from this deadly combo and they are:
Heroes that can save themselves from the Trap / Mine combo:
Mei can use Cryo-Freeze.
Lucio can use his ultimate Sound Barrier.
Zarya can use her Particle Barrier.
Reaper can save himself with Wraith Form, but he will not be able to move until untrapped.
Zenyatta can use his ultimate (Transcendence) to save him.
Passive Ability

Junkrat's deranged sense of humor persists past his death. If killed, he drops several live grenades.

Grenade Count:

5 total


Damage:

up to 300 (each grenade does up to 60 damage)
These death grenades are very deadly, but are really only useful against heroes that are mostly close range attackers such as: Reaper, Tracer, McCree, Reinhardt, and Genji. Long range attackers rarely ever need to worry about being hit by these death grenades.
When dealing with an enemy Junkrat, Total Mayhem is one of those abilities that a lot of people keep forgetting about (myself included). This is something you will need to plant in your head in order to remember continuously. Stay away from dying Junkrats to avoid his death grenades!
ULTIMATE




Ultimate Ability

Junkrat revs up a motorized tire bomb and sends it rolling across the battlefield, climbing over walls and obstacles. He can remotely detonate the RIP-Tire to deal serious damage to enemies caught in the blast, or just wait for it to explode on its own.

Cast Time:

1 second


Duration:

10 seconds


Damage:

up to 600


Tire Hitpoints:

100


Headshot?:

no


Default Hotkey:

Q


Rip-Tire is one deadly ability. There is a lot of stuff you should know about this ultimate.
Mechanics of Rip-Tire:
When used, you will be able to control the Rip-Tire while your Junkrat character stays still and is vulnerable while you control the tire. If Junkrat dies, you will still be able to control the tire until it explodes.
Junkrat can be damaged from his own Rip-Tire, but your own allies will be unharmed by the explosion.
Rip-Tires can be shot at and destroyed by the enemy. They have 100 hitpoints.
Rip-Tires can pick up health packs to replenish its HP.
Reinhardt's shield and Winston's Barrier will block the Rip-Tire explosion. But tires can be steered through shields and barriers.
If a Rip-Tire was killed by the enemy, it will not detonate once destroyed.
Rip-Tires have a somewhat large blast radius and will do less damage further out from the explosion.
Enemy Junkrats will yell "Fire in the Hole!" when they initiate their Rip-Tire ultimate. Allies will say (in a softer tone) "ladies and gentlemen, start your engines".
Rip-Tire engine sound will become louder once it gets closer to you.
If a Rip-Tire is snugged up against a wall, the engine sound will be muted (there will still be a faint sound however). This can be used for sneaky surprise attacks.
Tires can climb walls and also jump.
The tire can be detonated at any time by pressing Left Click, or wait until the full duration of 10 seconds is up and it will automatically detonate.
Torbjorn's turrets can attack Rip-Tires.
Tires can get stuck in Zarya's Gravition Surge.
Tires cannot go through Symmetra's teleporter.
Strategies for using Rip-Tire:
Before initiating Rip-Tire, find a spot that is hidden from your enemy, such as behind a corner or in a room protected by your teammates. Junkrat is completely vulnerable while Rip-Tire is activated so you must be at a hidden/protected spot before using it.
If you hear an ally using Rip-Tire (he will yell "ladies and gentlemen, start your engines"), make sure his stationary character is protected from the enemy.
If you know you are safe in a well protected spot, feel free to take your time and line up a good shot. You can climb walls, you can make the tire stay stationary by hugging up against a wall, giving you enough time to set up a good explosion.
If an allied Zarya uses her ultimate Graviton Surge (clumps enemies up together), a Rip-Tire is a good target for the surged up enemies.
Tires seem to be more effective when launched from a higher spot, as they can drop down unexpectedly to explode on a bunch of enemies and they won't have time to see it coming.
If you feel like you are in a not so safe spot when initiating Rip-Tire, then put a Steel Trap next to you to protect you from incoming enemies while Rip-Tire is activated.
Keep an eye on your tire's health. Once it gets low, consider detonating it immediately before it gets destroyed, otherwise a killed tire will not detonate.
Junkrat's Strength and Weaknesses Vs Other Heroes
Junkrat's Allied Synergies Guide
News/Home | Blog | Follow | Unlock Full Guide
Overwatch Basics Guide Menu
Overwatch Hero Introductions - Basics Guide
How the Mechanics Work in Overwatch
How Headshots Work In Overwatch
Overwatch Game Modes Overview
Overwatch Health Types & Hitpoint Basics
Overwatch Terms, Abbreviations, & Their Meanings
Other Guides
Easiest and Hardest Overwatch Heroes to Master
My Hotkey Bindings For Overwatch & Why I Use Them