Lucio In-depth Strategy Guide

( FP's Overwatch Strategy Guide )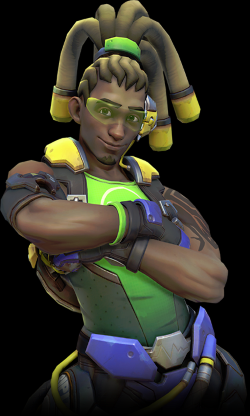 Lucio is a performer, DJ, and freedom fighter from Brazil who specializes in sonic technology to damage his enemies and support his allies with. Lucio's main weapon is a Sonic Amplifier that uses low frequency sound waves to fire sonic projectiles and to knock his enemies back. As a support hero, his Sonic Amplifier plays two different songs that can buff his teammates, either a gentle calming song to heal or an up beat song to increase speed. Lucio can seamlessly switch between the two anytime he wants. His ability Amp It Up increases the volume on his speakers, essentially increasing the effectiveness of his two songs for a short period of time. Lucio is also equipped with rollerblades that enables him to move very fast and even ride along walls which can help you get to hard to reach places that you couldn't otherwise. Lucio's ultimate Sound Barrier provides him and all nearby allies with powerful shields that essentially makes his team invincible for a short period of time allowing them to survive other enemy ultimates or other dangerous situations. Lucio's drawback is his lack of ability to rapidly heal single allies like Mercy.
Name: Lŭcio Correia dos Santos
Difficulty: Hard
Role: Support
Age: 26
Location: Rio de Janeiro, Brazil
Occupation: DJ, Freedom Fighter
Release Date: 10-27-2015
Base Hitpoints: 200
Passive Ability

Lŭcio can skate along walls for a brief time.

Movement Speed:

+20%


Default Hotkey:

Hold Space on a wall.
Lucio's Wall Ride is a passive ability that allows him to skate along walls, but only for a brief time. You can only wall ride on a single wall for a short period of time, but you can keep skating on walls by continuously switching to other walls. A lot of times it can be hard to do, as you would need to know the spots where you can skate from wall to wall to keep the flow going for it. Wall riding in general will take some practice to get used to.
It is very important to know that wall riding increases Lucio's movement speed by 20%. Lucio also receives a burst of speed when leaping off a wall. Because of this, you should get into the habit of wall riding quite frequently.
Besides moving faster, wall riding is mostly useful for getting to areas or ledges you couldn't get to normally or as a shortcut to get to certain places quicker. In the future, I plan on making in-depth guides about all the places where Lucio can wall ride to get to areas faster.
Wall riding is also used as a means to confuse your enemies, such as when you are running away from them or approaching them. This could make shooting you a little more difficult.
Corner Climbing
With Lucio's Wall Ride ability, you can switch back and forth in a corner between the two adjacent walls, this will allow Lucio to climb higher and higher all the way to the top. This comes in handy on certain maps and I will make in-depth video guides on this topic later.
Sonic Amplifier
(Primary Fire)

Lŭcio can hit his enemies with sonic projectiles.

Ammo:

20


Fire Rate:

4 rps in a burst with a slight pause between bursts


Damage:

20 per each projectile (80 if all 4 rounds connect)


Reload Time:

1.25 seconds


Headshot?:

YES




Default Hotkey:

LM
Lucio's Sonic Amplifier fires 4 sonic projectiles in a straight line (no arcing). The projectiles travel at a medium speed and have no fall-off distance damage, meaning it can be good for all ranges. Sonic projectiles is a great all around spam weapon and is great for spamming choke points and other areas where you think your enemy will appear at. During matches, I recommend continuously spamming sonic projectiles towards your enemies even if you are just firing at nothing, because with the medium travel speed, you will be surprised at how often the projectiles will actually hit something.
Lucio's Sonic Amplifier is actually one of the weaker weapons in Overwatch. Most of Lucio's powers are in his auras and ultimate.
Sonic Amplifier
(Alternate Fire)

Knock enemies back with a blast of sound.

Ammo:

20 (uses 4 per shot)


Damage:

25


Cooldown:

4 seconds


Headshot?:

no


Default Hotkey:

RM
Soundwave is Lucio's alternate fire which consumes 4 ammo out of the same pool of 20 ammo for his Sonic Amplifier. Soundwave only does 25 damage, which is not much, but it's very useful for knocking enemies away from you.
Knock enemies into deadly pits
One very important use of Soundwave is to knock enemies into deadly pits. There is a lot of maps that has deadly pits very close to the action. There is a lot of these pits on Control maps. While playing always be thinking in your mind about blowing someone into a pit if the opportunity arises.
Other important uses for Soundwave:
To knock Mei away from you if she gets close with her freeze gun.
To knock back a Genji using Dragonblade.
To knock back a Roadhog after he chain hooks you into him.
To knock back a Zarya using her short range particle beam on you.
To knock back a McCree so he cannot Flashbang and Fan Fire you down.
To knock back a Reaper and his deadly close range shotguns.
To knock back a Winston using Primal Rage.
To keep Reinhardt and his deadly melee strikes away from you.
And of course there are more (less important) uses for Soundwave as well. Generally you will want to keep using the ability to keep all your enemies away from you.
Ability

Lŭcio continuously energizes himself and nearby teammates with music. He can switch between two songs: one amplifies movement speed, while the other regenerates health.

Heal allies:

15.6 per second for all allies around Lucio


Self heal:

9 per second


Range:

10 meters (must also remain line of sight with allies)


Default Hotkey:

Shift (switches between heal and speed)
Lucio can switch between his heal or speed aura anywhere, instantly and without any cooldowns. You will find that heal aura is what you will be using most of the time, but there is a lot of uses for the speed aura as well.
Getting back to the fight faster after dying:
Lucio is one the fastest heroes at getting back to the fight after dying, as his speed aura plus combined with his Amp It Up ability provides an incredible amount of speed. And at the same time letting other nearby heroes get back to the fight faster as well. Besides using a Symmetra Teleporter or Resurrect, Lucio comes 3rd place at getting back to the fight faster after dying (after Soldier 76's Sprint, and then Tracer's Blinking being the fastest).

TIP: If more allies died right after you have died, it's more efficient to wait for them to respawn so you can speed boost them all back to the fight faster. With this in mind, you need to pay more close attention to the kill feed every time you die to see if more allies have died right after you so you can wait to speed boost them back to the fight.
Other uses for speed aura:
To let you and nearby allies escape just about every enemy ultimate. The only ultimates that are the hardest to run away from is Reinhardt's Earthshatter, Zarya's Graviton Surge, and Tracer's Pulse Bomb.
To run to a health pack quicker.
To get to the payload or objective quicker.
To reposition yourself somewhere else faster.
Most other times you should generally be using your heal aura, especially when you and your allies are engaged in combat. There a few exceptions, such as if your team is using a specific strategy or when you have two Lucios on your team and one uses Heal while the other one uses Speed (that way you get both auras at the same time). Also, Lucio's heal and speed auras do not stack with multiple allied Lucios, this means you cannot have two heal auras on, or two speed aura on, etc.
Lucio's auras have a range of 10 meters, which is a fairly large distance. Both auras will only work if Lucio's allies are in his line of sight. If they are not in his line of sight they will not get the auras, so if they are behind walls or obstacles from Lucio they will not receive the aura.
Under your crosshair, you will see if you have speed on (green) or heal on (yellow), along with a number that indicates how many allies are being effected by your current aura: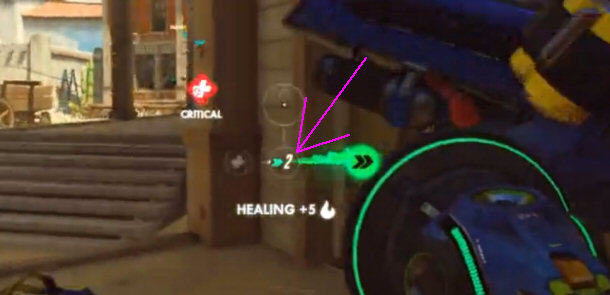 Ability with cooldown

Lŭcio increases the volume on his speakers, boosting the effects of his songs.

Duration:

3 seconds


Heal:

51.5 per second for all allies around Lucio


Speed Increase:

70% faster


Cooldown:

12 seconds


Default Hotkey:

E


Amp It Up allows Lucio to increase the effectiveness of either his heal by 3.3 times as much or speed aura by 70% faster, for 3 seconds. The best times to use Amp It Up for speed purposes are for the same ones I have listed above for the Crossfade section (so go give that another read). During combat I would preserve it for when you really need to use it, such as when your allies took a lot of damage and need to do a lot of healing, or when an enemy uses his ultimate and you need to amp up your speed aura to dodge it.
Keep in mind that after using an Amp It Up, you can still switch between heal and speed while maintaining the 3 seconds of increasement, no matter which aura you want to use.
ULTIMATE




Ultimate Ability

Protective waves radiate out from Lŭcio's Sonic Amplifier, briefly providing him and nearby allies with personal shields.

Duration:

6 seconds


Shield Incensement:

+500 shield - It then degrades at 100 shield every second over 5 seconds.


Default Hotkey:

Q


When Lucio uses his ultimate Sound Barrier, it will radiate soundwaves out from him and any allies within the range and line of sight of the waves will receive the +500 HP shield that degrades by 100 every second over 5 seconds. Sound barrier is very powerful in allowing you and your teammates to withstand a lot of damage for the duration of the ultimate, this is especially useful for protecting your team from most enemy ultimates in the game.
Sound Barrier is especially useful against these enemy ultimates:
Protecting your team from Genji's Dragonblade
Roadhog's Whole Hog
Junkrat's Rip-Tire
Soldier 76's Tactical Visor
Zarya's Graviton Surge
McCree's Deadeye
Tracer's Pulse Bomb
Reaper's Dead Blossom
Winston's Primal Rage
Pharah's Barrage
Reinhardt's Earthshatter
Those are the most important ones, but there are a lot of other reasons to use Sound Barrier as well. Generally as long as your team is with you and you are all engaged in combat then that is a good time to use it as well. You can generally see how many allies will receive your Sound Barrier by looking at the number on your crossfade section below your crosshair.
Sound Barrier + Speed Aura
When using Sound Barrier, you should also switch to speed aura more so than heal aura (most of the time) since Sound Barrier will prevent allies from taking damage from their normal health pool for its duration anyways and speed aura will allow your team to position themselves quicker, especially while initiating a push.
Sound Barrier Counters
Some ultimates can still counter a Sound Barrier, such as Junkrat's Rip-Tire (it does up to 600 damage) and D.va's Self-Destruct (does up to 1000 damage).
As you read below you will see more reasons to use Sound Barrier Vs other heroes..
Lucio's Strength and Weaknesses Vs Other Heroes
Lucio's Allied Synergies Guide
News/Home | Blog | Follow | Unlock Full Guide
Overwatch Basics Guide Menu
Overwatch Hero Introductions - Basics Guide
How the Mechanics Work in Overwatch
How Headshots Work In Overwatch
Overwatch Game Modes Overview
Overwatch Health Types & Hitpoint Basics
Overwatch Terms, Abbreviations, & Their Meanings
Other Guides
Easiest and Hardest Overwatch Heroes to Master
My Hotkey Bindings For Overwatch & Why I Use Them