McCree In-depth Strategy Guide

( FP's Overwatch Strategy Guide )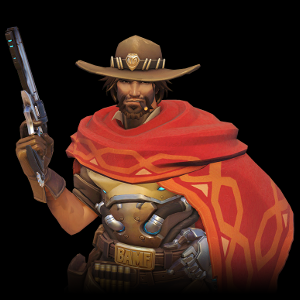 McCree is one of the best DPS heroes in the game thanks to his powerful revolver. He can do good damage up close and from a medium range distance. McCree is great for soloing enemies with his flashbang ability. If you are coming from FPS games like Counter Strike (CS), then McCree will feel very natural for you as his aiming is very similar in respect to the guns in games like CS. If you are new to FPS, then there will be a learning curve for how to aim properly with McCree. McCree's weakness is his lack of long distance damage and map mobility skills. Because of his lack of map mobility, McCrees' tend to stick around the tank and deal DPS and not wonder around like other attack heroes such as Genji, Tracer, or Reaper. Let's check out his abilities in-depth:
Name: Jesse McCree
Difficulty: Medium
Role: Offense
Age: 37
Occupation: Bounty Hunter
Release Date: 10-27-2015
Base Hitpoints: 200
Main attacking weapon
(primary fire)

McCree fires off a round from his trusty six-shooter.

Ammo:

6


Normal Fire Rate:

1 shot per 0.5 second.


Damage:

35 - 70 (per hit) - Damage decreases with distance.


Reload time:

1.5 seconds


Headshot?:

YES




Default Hotkey:

LM / RM
Bullets from McCree's Peacekeeper has no travel time and hits targets instantly. This is one of the reasons that makes McCree's weapon very powerful. Although due to fall-off distance damage, the further you hit a target, the less damage will be done. Proper aiming with the Peacekeeper will take a lot of practice.
Main attacking weapon
(Alternate Fire)

McCree fires off a round from his trusty six-shooter. He can fan the Peacekeeper's hammer (alternate fire ability) to swiftly unload the entire chamber.

Ammo:

6


Fan Fire Rate:

6 shots over 0.85 second.


Damage:

270 max (25-45 per bullet) - Damage decreases with distance.


Reload time:

1.5 seconds


Headshot?:

no


Default Hotkey:

RM
It's generally better to use the alternate fan fire ability up close and use his regular shots for longer distances. Keep in mind that when using the alternate fan fire ability, it will only unload the rest of the bullets remaining in the current chamber with an inaccurate shot spread. It can be useful to first do a combat roll to get close to the enemy and then do the Fan Fire attack so you know for sure that your gun will be loaded while also getting up close to the target.
The alternate fan fire is great when combined with Flashbangs and Combat Rolls (as explained later).
Ability with cooldown

McCree dives in the direction he's moving, effortlessly reloading his Peacekeeper in the process.

Cooldown:

8 seconds


Default Hotkey:

Shift
This ability has multiple purposes, but mainly it's used to confuse your enemies and to dodge out of enemy fire. This can also be used to quickly reload your revolver while in the midst of combat, while at the same time adding some confusion to your enemies.
Combat Rolls can only be used when McCree is on the ground and it can be used in any direction he is moving. This means you can do a Combat roll backwards by pressing your back button while using Combat Roll, etc.
Ability with cooldown

McCree heaves a blinding grenade that explodes shortly after it leaves his hand. The blast staggers enemies in a small radius.

Cooldown:

10 seconds


Damage:

25


Stun Time:

.7 second


McCree's Recovery Time:

0.35 second (amount of time before McCree can fire again)


Headshot?:

no


Default Hotkey:

E
Flashbangs only travel a very short distance (like about 15 feet) then explodes with a splash radius. It does a very small amount of damage (25). Most importantly it stuns all enemies in the radius for 0.7 seconds. This weapon is very deadly when used with McCree's alternate fan fire weapon (throw a flashbang, then quickly unload the revolver). If the enemy doesn't die, then do a combat roll to quickly reload and continue firing. This combo is what makes soloing enemies as McCree very efficient.
Keep in mind that shields and barriers will stop Flashbangs from effecting enemies behind them.
Flashbanging Enemies Close Up
You can throw a Flashbang to make it explode sooner and closer to you by simply aiming at the ground in front of you. This is a very valuable tactic, especially if an enemy is right up close to you because you can have the Flashbang have a higher chance of not missing close up targets and it will also detonate a bit sooner.
ULTIMATE




Ultimate Ability

Focus. Mark. Draw. McCree takes a few precious seconds to aim; when he's ready to fire, he shoots every enemy in his line of sight. The weaker his targets are, the faster he'll line up a killshot.

Charge Time:

1 second per 200 health of each enemy in sight


Max Duration:

10 seconds


Default Hotkey:

Q


Headshot?:

no


NOTE:

Deadeye will use 50% Ultimate charge on activation, and 50% upon shooting.


When using McCree's ultimate, he will walk very slowly around and be all lighted up for the enemy to see while McCree is zoning in for headshots. You will see circles around the enemies heads as he is revving up the shot and will be able to kill a target once the circle(s) is totally closed in on a target and turns into a red skull. The circles will zone in faster depending on how much health an enemy has, the less health the faster McCree will line up a shot. When firing the Deadeye, it will hit all targets within view but only kill targets that have a red skull on them. It can still do a lethal amount of damage to targets that were almost lined up for a killshot.
McCree's ultimate is best used mostly as a clean up ability. You should try to use it when McCree is not to vulnerable to the enemy, because you cannot use any other abilities and he will just stand there while revving up the shot(s) and can be easily killed during the process.
While lining up shots, you can see two different circle colors:
Red circle is a target that is within view and is zoning in for a lined up shot.
White circle is a target that is not within view and is NOT zoning in for a lined up shot.
Targets get lined up at 200 HP per second. So if a target has 400 HP, it will take 2 seconds for that target to get lined up.
More info on Deadeye
You will see a tumble weed right in front of McCree while he is using Deadeye. This is only a visual effect, but this can perhaps help the enemy in locating you quicker by spotting the tumble weed first.
Once Deadeye is activated it will quickly drain your ultimate charge to 0% in 0.25 second.
McCree can move during Deadeye, but it is a very slow movement.
You can cancel Deadeye during it. Canceling it will allow you to move quickly again.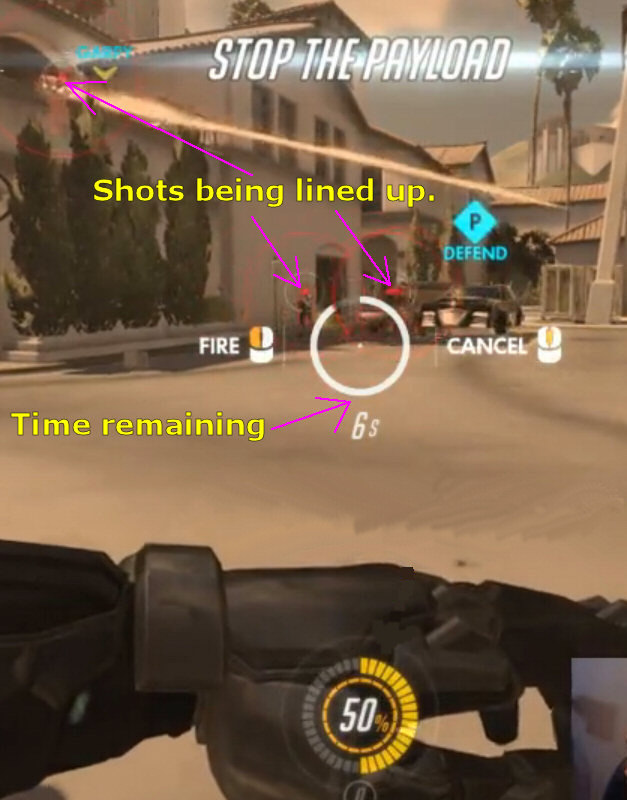 A Fully lined up shot turns into a red skull. If you fire the gun, any red skulls on your screen will be dead targets upon firing.
Red skulls will be dead targets upon firing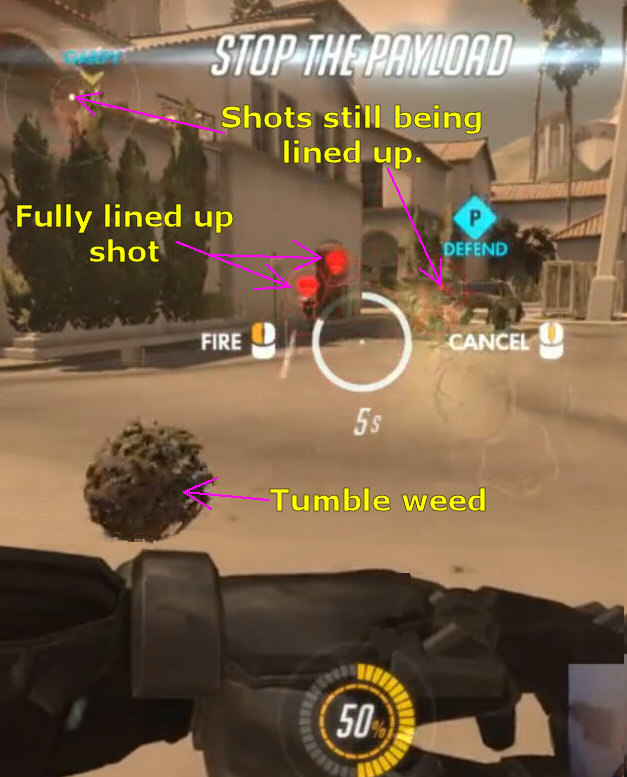 It's a good idea to be behind a shield while using Deadeye, so getting behind Reinhardt's shield or Winston's barrier can be very useful here. Also Zarya can put a barrier on you as well.
One thing I've noticed, if you can get a lot higher up than your opponent while using Deadeye, it makes it harder for your enemy to spot you quick enough. I'll soon make a guide listing the high spots and other hidden spots on all the maps where McCree can use Deadeye more safely.
It's also important to know that Deadeye can be prevented by the enemy by having another enemy target get in front of another enemy that Deadeye is being zoned in on. So for example, a beefy tank such as Roadhog can jump in front of weaker allies that are in the line of the Deadeye sight and take the damage instead. Also enemy shields can stop Deadeye shots.
McCree's Strength and Weaknesses Vs Other Heroes
McCree's Allied Synergies Guide
News/Home | Blog | Follow | Unlock Full Guide
Overwatch Basics Guide Menu
Overwatch Hero Introductions - Basics Guide
How the Mechanics Work in Overwatch
How Headshots Work In Overwatch
Overwatch Game Modes Overview
Overwatch Health Types & Hitpoint Basics
Overwatch Terms, Abbreviations, & Their Meanings
Other Guides
Easiest and Hardest Overwatch Heroes to Master
My Hotkey Bindings For Overwatch & Why I Use Them