Pharah In-depth Strategy Guide

( FP's Overwatch Strategy Guide )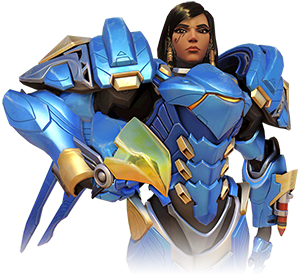 Pharah is an aggressive assault hero that utilizes a jet pack with a rocket launcher as her main weapon. Her jet pack offers incredible map mobility that other heroes don't quite have, which provides her with a lot of flanking possibilities. Her jetpack allows her to escape out of combat easily and pretty much get to anywhere on the map with relative ease. Since Pharah is mostly high in the air, she is especially powerful against heroes that do only short range damage (such as Reaper, Junkrat, and Mei), but is vulnerable to heroes that do good long range damage (such as Widowmaker, McCree, Hanzo, and Soldier 76). Pharah's ultimate, Barrage, is very powerful, but you need to learn how to use it correctly as she becomes very vulnerable while using it. Here is Pharah's weapons and abilities in-depth:
Name: Fareeha Amari
Difficulty: Easy
Role: Offense
Age: 32
Occupation: Security Chief
Base of Operation: Giza, Egypt
Release Date: 10-27-2015
Base Hitpoints: 200
Main attacking weapon

Pharah's primary weapon launches rockets that deal significant damage in a wide blast radius.

Ammo:

6


Fire Rate:

1 per second


Damage:

120 (direct hit)


Splash Damage:

13-80 (40 max self damage)


Reload:

1 second


Headshot?:

no


Default Hotkey:

LM
Pharah's rockets fly straight to its target (no arks), do splash damage and also do small knockbacks as well. Rockets are great for short or long range, and deal a decent amount of damage. Rockets have no fall-off damage, this means rockets will do the same amount of damage regardless of how far they are. Rockets do more damage on straight contact than splash damage, but you may find while playing Pharah that it can be easier to hit enemies firing rockets on the ground next to them especially when you are not flying in the air at the time. It is generally much easier to hit targets when you are flying above them, so use your jet pack often, but watch out for heroes that can counter you while flying in the air.
Rockets are not the fastest moving projectiles, so you will want to try and predict where the enemy will be when the rocket reaches them. Players who have experience playing games like Quake, where the rocket launcher is the main weapon of choice, you will already get the hang of how to aim with Pharah's rocket launcher, you will just need to learn how to use her jump jets correctly. Rockets also can hurt yourself if you hit something right next to you (up to 40 self-damage), so keep this in mind.
An interesting fact is that rockets can collide with other rockets in mid-air negating them.
Ability with cooldown

Propelled by her suit's thrusters, Pharah soars high into the air.

Cooldown:

10 seconds


Default Hotkey:

Shift
Pharah is currently the only hero in Overwatch that is capable of flying in the air for extended periods of time thanks to her Jump Jet and hover pack abilities. The second closest hero that excels at flying is D.va with her Boosters.
Jump jets serve multiple uses for Pharah. Pharah can use jump jets to escape out of deadly close range heroes such as Reaper, Mei, Reinhardt, and McCree. Jump jets can be used to simply get high above your enemy while they are fighting your teammates while dishing out damage high above with your rocket launcher. Jump jets serve as extremely good map mobility, allowing Pharah to reach places other heroes may not be able to get to. Please note that when you initiate Jump Jet, as soon as you hit a ceiling, you will no longer be able to go up any higher, even if you bypass the ceiling and get back out in the open.
While in the air, if you hold down spacebar, Pharah will float (with her hover packs). If you keep holding spacebar down you will run out of hover fuel, but it replenishes fast enough to allow you to still do some hovering. The hover fuel replenishes fully in about 2.5 seconds when not in use.
One important tip you should know is after pressing the hotkey for the jump jets, you can then press and hold that hotkey again to use her jump jet immediately when it becomes available again. But this only works if you release the button and then press it again once the cooldown begins for the next one. I find myself doing this quite a bit while during intense battles.
One of the drawbacks with jump jet and hover packs is how slow she moves while floating in the air, this allows long range heroes to shoot her down very easily. All these heroes are listed below as her counters. If you find that most of the enemy has a lot of those heroes in the game, you may want to switch to a different hero.
One thing I've noticed when a Pharah becomes especially useful is near the end of a match when everybody is crammed at the final payload destination or capture point and everyone is busy fighting each other. Just fly in the air above everyone and shoot rockets down, most wont even know you are up there since they are so busy fighting down below.
Ability with cooldown

Pharah looses a wrist rocket that knocks back any enemies it strikes.

Cooldown:

12 seconds


Damage:

1


Headshot?:

no


Default Hotkey:

E
This is a general utility weapon that is used to knock back other heroes, cause confusion to the enemy, break up enemy formations, and many other uses. It has no effect on her teammates, only enemies and herself.
Another important use of concussive blast, is Pharah can use it to propel herself quickly in any direction, similar to a rocket jump in Quake. So start practice using this for basic mobility.
A lot of maps have deadly pits where you can simply fall into and die. As Pharah you should know all these pits and you can use them to your advantage by using a concussive blast to attempt knocking an enemy into one of these pits. I have done this multiple times myself already and feels great to pull one off correctly.
ULTIMATE




Ultimate Ability

Pharah directs a continuous salvo of mini-rockets to destroy groups of enemies.

Duration:

3 seconds


Damage:

40 per rocket (2500+ if all rockets connect)


Headshot?:

no


Default Hotkey:

Q


Pharah's ultimate Barrage is extremely deadly. Keep in mind that when you use Barrage, Pharah will remain immobilized in place until she is done with the Barrage. This makes her very vulnerable to enemy fire. When I first played Overwatch, I picked Pharah first, and I found out real quick that you need to have a strategy for when you use her ultimate, as you can easily die when using it. Here are some tips you can use for knowing when to use her ultimate:
Focus fire on the following enemies first as they can shoot you down easier: McCree, Genji, Lucio, Soldier 76, Widowmaker, Bastion, Hanzo, Roadhog, and Zenyatta. You can also simply make sure these enemies are not around (or dead) before using Barrage.
Get real high above your enemy where you are harder to spot, then use it.
Make sure you are not alone when using it as you will be a much easier target. Have your teammates distract them while you use Barrage in an unexpected spot.
Some maps have certain spots where you can hide and use Barrage, be mostly covered, and deal decent damage. I will list these spots later on.
Barrage pairs well with these allied abilities:
When Zarya uses her Gravitation Surge ultimate (makes all enemies clump up together).
When Reinhardt uses his ultimate Earthshatter (slams the ground in front of him and drops all the enemies in front of him).
When Mei uses her ultimate Blizzard (slows and freezes all enemies in a large radius).
When D.va uses her defense matrix ability (stops all incoming projectiles for a few seconds).
When a beefy ally tank gets in front of you (Roadhog, Winston, Reinhardt).
Pharah's Strength and Weaknesses Vs Other Heroes
Pharah's Allied Synergies Guide
News/Home | Blog | Follow | Unlock Full Guide
Overwatch Basics Guide Menu
Overwatch Hero Introductions - Basics Guide
How the Mechanics Work in Overwatch
How Headshots Work In Overwatch
Overwatch Game Modes Overview
Overwatch Health Types & Hitpoint Basics
Overwatch Terms, Abbreviations, & Their Meanings
Other Guides
Easiest and Hardest Overwatch Heroes to Master
My Hotkey Bindings For Overwatch & Why I Use Them