Reaper In-depth Strategy Guide

( FP's Overwatch Strategy Guide )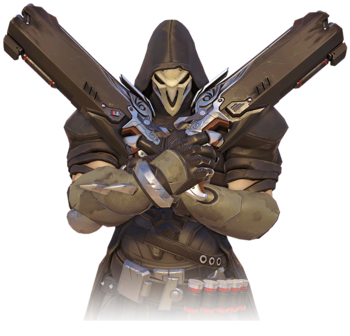 You want to play a team FPS game but you want to have it feel like you are playing more of a single player game? Then Reaper is the closest choice for that. Reapers work a lot different than other heroes in Overwatch. Instead of sticking around your team's tank or healer, Reapers tend to go off on their own and have multiple purposes to fulfill, which includes: scout, harass, and ambush your enemy, usually without the help from other teammates. Reaper's offensive abilities allow him to seamlessly move around the map behind enemy lines and do quick surprise attacks and then reappear somewhere else to do more surprise attacks. Reapers excel at taking out tough defenses (Bastions & Widowmakers). As you can see, Reapers can really throw off the enemy making them more vulnerable to the rest of your team.
Real Name: Unknown
Difficulty: Easy
Role: Unknown
Age: Unknown
Occupation: Mercenary
Release Date: 10-27-2015
Base Hitpoints: 250
Passive Ability

Reaper can collect Soul Globes to regain health.

Globe Heals:

+50 HP
Only Reaper can see Soul Globes and they appear after an enemy dies, regardless if Reaper killed the enemy or one of his allies kills an enemy. Each globe heals 50 health. The Soul Globe only lasts on the battlefield until the dead enemy returns back to the game. This passive ability allows Reaper to keep going without having to worry about getting healed by his team. At full health you cannot pick up Soul Globes, even though they will still drop.
Main attacking weapon

Reaper tears enemies apart with twin shotguns.

Ammo:

8


Damage:

2-7 per pellet (20 pellets per shot) - 140 max damage per shot (Fall-off distance damage).


Rate of Fire:

2 per second


Reload:

1.5 second


Headshot?:

YES




Default Hotkey:

LM
Reaper's Hellfire Shotguns deal massive damage in close range. Besides a Bastion Sentry, Reaper's Hellfire Shotguns do the most close up DPS out of any other Hero's attack weapons in the game.
Reaper's shotguns have fall-off distance damage the further it hits something. From mid to long range Reaper does much less damage as the fall-off starts from short range and drops dramatically. However, Reaper's shotguns can still be effective at mid ranges on bigger targets, such as big tanks and shields such as Reinhardt's shield.
Another tid bit, is when you reload your shotguns, Reaper will simply drop his pair of shotguns on the ground and pull out a brand new pair within his trench coat. The used shotguns on the ground will disappear after about 5 seconds. This is important because if you see these shotguns laying around in the game as another hero, this is an indicator that an enemy Reaper could be near by.
Aiming with Reaper's shotguns are not incredibly difficult, but it will take a bit of practice and game playing to get consistent with his shotguns.
Ability with cooldown

Reaper becomes a shadow for a short period of time. While in this form, he takes no damage and is able to pass through enemies, but cannot fire his weapons or use other abilities.

Duration:

3 seconds


Cooldown:

8 seconds


Default Hotkey:

Shift
Wraith Form does not make Reaper invisible to enemies, but he is invulnerable for the duration of the ability. Using this ability also automatically reloads Reaper's Shotguns. So, in some situations, instead of reloading during a fight, you can use Wraith Form to reload instead, especially if you need to take cover in the process.
The main use of Wraith Form is to avoid enemy fire. When you see yourself losing a battle, just use Wraith Form to escape out of the fight (to allow yourself to go get a health pickup or to a healer). While in Wraith Form Reaper also moves slightly faster, so it can be used for basic map mobility, such as after you die, you can use Wraith Form to get back to the fight quicker. Keep in mind that Wraith Form cannot be canceled while using it, one must wait until the duration is over until you can use your other abilities again.
Reapers should try to stay around escape routes/hallways, this allows Reaper to move around the map doing his surprise attacks while using his Wraith Form to move through these escape passages on the maps. Reapers tend to be weaker in more open areas without hallways and side paths to move about.
Wraith Form counters virtually every ultimate in the game, the less obvious ones include:
Zarya's Graviton Surge
Mei's Blizzard
Tracer's Pulse Bomb
McCree's Deadeye
Another important thing to know is that using Wraith Form dispels all debuffs, most importantly Zenyatta's Discord Orb and Widowmaker's Venom Mines. Wraith Form can still be used to contest objectives, pick up health packs and Soul Globes.
Ability with cooldown

After marking a destination, Reaper disappears and reappears at that location.

Cast Time:

2 seconds


Cooldown:

10 seconds


Default Hotkey:

E
Shadow Step allows Reaper to move around the map in places where Reaper couldn't go otherwise, such as high ledges, or right behind the enemy. This teleportation ability is what allows Reaper to do his surprise attacks.
When Shadow Step is used, there will be a visual and audio mark destination indicator to alert the enemy that Reaper is teleporting in. This can warn them ahead of time to prepare a headshot at Reaper once he teleports to the destination. There will also be a short stun time (about 1 second) from your original spot before teleporting to your destination. So you must be very careful where you use this at. Try to be as sneaky as possible. Try to use it in places where the enemy may not be able to see, such as all the way behind them, in rooms, hallways, or high up ledges. Keep a mental note what is around you at the time of teleporting along with what enemies are around your destination.
Shadow Step does have a max distance it can be used at, but it does have a fairly large range of use.
ULTIMATE




Ultimate Ability

In a blur of motion, Reaper empties both hellfire shotguns at breakneck speed, dealing massive damage to all nearby enemies.

Duration:

3 seconds


Damage:

200 per second (600 max damage, and 40 damage per tick)


Range:

8 meter radius


Headshot?:

no


Default Hotkey:

Q


Death Blossom is a very deadly short range damage dealer that does 360 degrees of damage all around Reaper. Deathblossom is best used when there are a lot of clumped up enemies in a short radius, as it can wipe all of them out easily as long as they do not kill you first while executing Deathblossom.
While doing Death Blossom, Reaper is still very vulnerable, so one must be very careful before using it.
Here are some tips to make Death Blossom safer and more effective to use:
Use it when your teammates are distracting your enemy.
Use it as a surprise attack by dropping down from a higher spot (use Shadow Step to get to these high spots), the enemy may not react fast enough to kill you.
You can't cancel Death Blossom while using it, but you can still use your directional keys to move around while it is activated. You can even jump as well.
You can still pick up Soul Globes while Death Blossom is activated, which could help you survive longer while using it.
Your teammates can also do one of the following to protect Reaper and to make Death Blossom more useful:
When Zarya uses her Gravitation Surge ultimate (makes all enemies clump up together).
When Reinhardt uses his ultimate Earthshatter (slams the ground in front of him and drops all the enemies in front of him).
When Mei uses her ultimate Blizzard (slows and freezes all enemies in a large radius).
When D.va uses her defense matrix ability (stops all incoming projectiles for a few seconds).
When Winston uses his Barrier Shield for protection.
Counters to Deathblossom
There are many counters to Deathblossom, some of the hardest counters include:
Roadhog's Chain Hook (it will cancel out Deathblossom)
Lucio's Sound Barrier
McCree's Flashbang (it will cancel out Deathblossom)
Shields from either Winston or Reinhardt
D.va's Defense Matrix
Genji's Deflect (Genji can first Swift Strike to the Deathblossom then activate Deflect to quickly kill Reaper)
Reaper's Strength and Weaknesses Vs Other Heroes
Reaper's Allied Synergies Guide
News/Home | Blog | Follow | Unlock Full Guide
Overwatch Basics Guide Menu
Overwatch Hero Introductions - Basics Guide
How the Mechanics Work in Overwatch
How Headshots Work In Overwatch
Overwatch Game Modes Overview
Overwatch Health Types & Hitpoint Basics
Overwatch Terms, Abbreviations, & Their Meanings
Other Guides
Easiest and Hardest Overwatch Heroes to Master
My Hotkey Bindings For Overwatch & Why I Use Them