Reinhardt In-depth Strategy Guide

( FP's Overwatch Strategy Guide )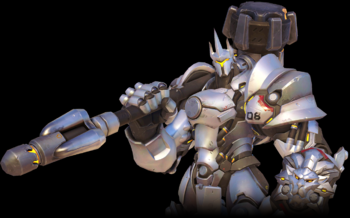 Reinhardt is a true definition of a tank. He has a massive shield, rocket thrusters on his back, and a huge Rocket Hammer to hold back and decimate his enemies with. His massive shield can protect his whole team as they push forward absorbing an incredible amount of damage. His rocket thrusters on his back enables him to Charge forward quickly and pin anyone in his path to a wall, which will usually kill anything. Reinhardt's Rocket Hammer is an extremely powerful melee weapon that has the longest range of any other melee weapon in the game and can hit multiple targets at once. He can use his rocket hammer to launch a Fire Strike projectile that can strike through anything in its path. His ultimate Earthshatter hits the ground in front of him with his hammer and makes all his enemies fall down, take damage, and stuns them for a short period of time. Reinhardt's main weakness is his lack of vertical mobility and can be overwhelmed from enemies from high above and there isn't much he can do about that except throw Fire Strikes. Reinhardt's main role is to absorb damage and depends on his teammates to output most of the damage.
Name: Reinhardt Wilhelm
Difficulty: Medium
Role: Tank
Age: 61
Occupation: Adventurer
Base of Operation: Stuttgart, Germany
Release Date: 10-27-2015
Hitpoints: 500
Main attacking weapon

Reinhardt's Rocket Hammer is an exemplary melee weapon, able to deal punishing damage in a wide arc with every swing.

Ammo: Melee (no reloading or pauses)
Damage: 75
Fire Rate: 1 swing per second
Headshot?: no
Default Hotkey: LM

NOTE:

For comparison, all other basic melee attacks in Overwatch does 30 damage.
Reinhardt's Rocket Hammer is the second strongest melee weapon in the game, following Genji's Dragonblade ultimate, but for a main attacking weapon it's fairly close to Genji's as it does an incredible amount of damage. Reinhardt is the only hero in Overwatch where his main weapon is melee based. Each swing has a wide arc and the range is twice as far as most other melee weapons in the game. When Reinhardt swings his hammer it has an active hitbox associated with it, meaning that you can turn your character during a swing and it will change focus while turning. Each swing has the opportunity to hit multiple enemies at once and will also slightly knock them back as well. Getting up close to a Reinhardt is a very nasty situation for just about anyone and a lot of that is due to his powerful Rocket Hammer melee attacks.
Ability with cooldown

Reinhardt projects a broad, forward-facing energy barrier, which can absorb substantial damage before it is destroyed. Though Reinhardt can protect himself and his companions behind the barrier, he cannot attack while sustaining it.

Shield Health:

2000


Recharge Rate:

225 per second when not deployed


Cooldown:

5 seconds


Default Hotkey:

RM
Reinhardt's Barrier Field is his staple defensive mechanism used to block an incredible amount of damage as it can block a whopping 2000 hitpoints of damage.
Barrier Field Mechanics:
When used it will switch your view to a 3rd person viewpoint, then back to 1st person once unused. This allows you to see your shield and align it properly on the battlefield.
While active it will greatly reduce Reinhardt's movement speed.
Reinhardt cannot do anything else while his shield is up, no other attacks are allowed and he will depend on his teammates to output damage.
Barrier Field Blocks 2000 points of damage.
Does not block shots from allies.
The shield will regenerate its hitpoints after 2 seconds of it being turned off at a rate of 225 hitpoints per second regardless if Reinhardt is taking damage or even dies.
If destroyed, the barrier will have a 5 second cooldown until it can be used again, although, it will start regenerating its hitpoints after 2 seconds of being destroyed.
The Barrier does NOT block the following:
Melee attacks. Reinhardt and his shield will both take full damage from a single melee attack.
Some channeled weapons, including: Winston's Tesla Cannon, but Symmetra's Photon Projector beam will be blocked.
Reinhardt's Fire Strike and Symmetra's Photon Orbs. Fire Strike and Photon Orbs can actually pass through and damage everything in its path, including Reinhardt, his barrier and anyone else behind Reinhardt.
The Barrier Field blocks everything else, but the less obvious ones include:
Symmetra's Sentry Turrets (turrets will still attack and damage Reinhardt's shield, but it will not slow Reinhardt down and it will not gain ultimate charge for Symmetra)
Symmetra's Projector Beam
Mei's Frost Stream
D.va's Self-Destruct
Junkrat's Rip-Tire (but tires can be steered through shields and then be detonated)
Reinhardt's Earthshatter
McCree's Deadeye
Roadhog's Chain Hook
Barrier Field Strategies
As Reinhardt you should be at the front lines most of the time soaking up damage with your Barrier Field, helping your team push forward. You should be using your Barrier Field most of the time, only dropping it when you need to use another ability quickly. Your goal is to keep your team alive and especially protect your support heroes as you will be relying on them to keep you alive as well.
On Attack you will want to be the one driving the Payload to its destination or pushing towards the objective while keeping your shield out most of the time to soak up damage. Once you successfully break through choke points is when you can be a bit more creative with Charging potential enemies down that are in the open. And keep throwing Fire Strikes once the cooldown is up for it every time.
On Defense it is similar to Attack except you will be more stationary with your Barrier Field as you will be trying to prevent the enemy from pushing toward your team.
Reinhardt's Barrier Field is great for blocking shots from hitting Torbjorn's turrets, enabling Torbjorn to dish out damage with his Rivet Gun instead of getting preoccupied repairing his turret. Barrier Field is also a great counter to Roadhog's Chain Hook, as he can protect his entire team from getting Chain Hooked into Roadhog.
Ability with cooldown

Reinhardt charges forth in a straight line, grabbing hold of enemies in his path. If he collides with a wall, foes he's carrying suffer extreme damage.

Cooldown:

10 seconds


Damage:

Pin is 300 (additional enemies will take 50 damage if hit after Reinhardt grabs a victim)


Headshot?:

no


Default Hotkey:

Shift
Charge quickly dashes Reinhardt in the direction he is facing and will grab the first enemy in his path and then pin that enemy to the next thing he runs into dishing out 300 points of damage, which will kill all heroes in the game except other tanks. While charging, Reinhardt can slightly steer left or right enabling him to have some control over the charge direction by using your strafe keys. There is a max distance that Charge will go to, but it is generally so long that it is rare to see it with the collision heavy obstacles in Overwatch. Enemies will not take any pin damage if the Charge goes the max length before hitting a wall. Enemies that Reinhardt doesn't grab while charging, but still hits, will take a knock back with 50 points of damage. Charge can be used as a means of mobility and he can use it to get to the fight faster after dying. Charge can travel through enemy shields and barriers, so it works against other Reinhardt's who have their shield up, Winston's Barrier and Zarya's barriers. Although with Zarya's Barriers, it will not hurt the victim if the barrier does not wear off before ramming them into a wall.
It is recommended that after you pin a tank against the wall to immediately start swinging your Rocket Hammer to finish the victim off before they can escape or fight back.
Be careful when using Charge, as you cannot cancel the ability and you may run into things you didn't have an intention to, such as a deadly pit or a heavily guarded area with your team left way behind. Sometimes it is only wise to Charge at a group of enemies only if you have your ultimate Earthshatter available to knock them all down after charging, to allow you to escape or your team to catch up with you afterwards.
Ability with cooldown

By whipping his Rocket Hammer forward, Reinhardt slings a flaming projectile which pierces and damages any enemies it touches.

Cooldown:

6 seconds


Cast Time:

0.25 second


Damage:

100 per hit (can strike through every hero in it's path)


Headshot?:

no


Default Hotkey:

E
Fire Strike has a unique characteristic where it can strike through every target in its path and deal a 100 damage to each target hit. The only other projectile in the game that works similar to that is Symmetra's Photon Orbs. Unlike Photon Orbs, Fire Strike travels much faster, but deals similar damage. Fire Strikes can travel through shields and barriers while doing damage to them as well. This makes Fire Strike a good counter to other Reinhardts and their shields, and also Winston's barriers.
Fire Strike is Reinhardt's only ranged weapon, but a powerful one at that. It has a relatively low cooldown of only 6 seconds and I recommend using it almost immediately every time the cooldown is up for it. Fire Strike is Reinahrdt's main way of charging up his ultimate, so keep Fire Strikes going constantly.
Fire Strike is Reinhardt's only means of dealing with enemies that are high up, as he has no other way of getting to higher areas and ledges, unless an allied Mei uses her Ice Wall to lift up Reinhardt to a high spot.
Other important uses for Fire Strike:
At Pharah while she is using her ultimate Barrage.
Destroying Junkrat's traps, mines, and his Rip-Tire ultimate.
Fire Strikes are easy hits on Roadhog because he is such a slow moving target with a large hitbox, and it's important to keep him and his Chain Hook away from your team.
While McCree is using his Deadeye ultimate, since he stands still and can't move much at all while using it.
When Reaper uses Shadow Step. If you see a Reaper using Shadow Step, it will give you enough time to charge up a Fire Strike and aim it right at his Shadow Step destination.
At Widowmaker. If you spotted their Widowmaker, a Fire Strike at her will force her to relocate or move out of the way, disabling her from combat for a short period of time.
At another Reinhardt. Reinhardt Vs Reinhardt battles often result in a lot of Fire Strikes at each other, and for good reason. Hitting another Reinhardt with a Fire Strike is a relatively easy hit and will help charge up your ultimate faster.
At Torbjorn's turret, and it will have a chance of hitting Torbjorn at the same time as well.
Bastion Sentries. They are stationary and easy targets for Fire Strike.
ULTIMATE




Ultimate Ability

Reinhardt forcefully slams his rocket hammer into the ground, knocking down and damaging all enemies in front of him.

Cast Time:

0.5 second


Damage:

50


Stun Time:

2.5 seconds


Headshot?:

no


Default Hotkey:

Q


Earthshatter hits enemies in a cone in front of Reinhardt, and deals 50 damage to each enemy hit and drops them to the ground stunning them for 2.5 seconds. The only thing known to stop this is shields and barriers. So avoid using this in front of another Reinhardt with his shield out, Winston's Barrier, or a particle shield from Zarya. Also Zenyatta's ultimate Transcendence will stop the flow of an Earthshatter behind him.
Even though Earthshatter is more of a ground ability, it can knock down enemies that are 2 meters above the ground.
Strategies for using Earthshatter:
Earthshatter should be saved when you really need it, as it can get you out of deadly situations and can hit multiple enemies at once.
After using Earthshatter on a bunch of enemies, you can then do a deadly combo on one of their most important heroes and finish them off with a Fire Strike followed by a Charge, this works especially well on high HP heroes such as other tanks.
Earthshatter is a great compliment to D.va's Self-Destruct as it locks enemies in place preventing them from running away from D.va's exploding mech.
Earthshatter is great when combined with Mei's Blizzard, as they won't have time to run out of the Blizzard and they will most likely freeze, giving your team enough time to contest an objective or to hold them away from the objective.
An Earthshatter can give McCree enough time to line up his Deadeye ultimate without worrying about taking too much damage.
Earthshatter can protect Pharah while she uses her ultimate Barrage.
Using an Earthshatter on Torbjorn's turret will stun it (preventing it from firing for a few seconds) and also deal damage to it.
Payloads do not block Earthshatter, so using this at the enemies all bunched up around the Payload is a good idea.
Reinhardt's Strength and Weaknesses Vs Other Heroes
Reinhardt's Allied Synergies Guide
News/Home | Blog | Follow | Unlock Full Guide
Overwatch Basics Guide Menu
Overwatch Hero Introductions - Basics Guide
How the Mechanics Work in Overwatch
How Headshots Work In Overwatch
Overwatch Game Modes Overview
Overwatch Health Types & Hitpoint Basics
Overwatch Terms, Abbreviations, & Their Meanings
Other Guides
Easiest and Hardest Overwatch Heroes to Master
My Hotkey Bindings For Overwatch & Why I Use Them