Tracer In-depth Strategy Guide

( FP's Overwatch Strategy Guide )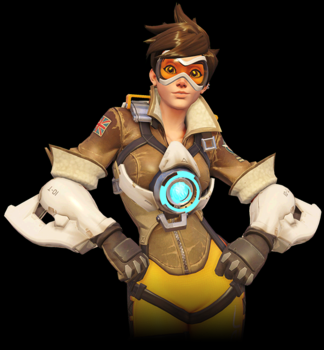 Tracer has unique abilities that allows her to control the speed of her own passage through time, she is able to zip and blink around the battlefield so fast that it's hard to tell sometimes where she came from and where she is going, really confusing her enemies. Because of her fast unpredicted movement ability, she is the best harassing and flanking hero in the game. She can easily get behind enemy lines and defenses (such as Bastions and Widowmakers) to harass the enemy and then blink away and do some more damage. Tracer is the hardest hero in the game to hit, but she does have very little hitpoints (only 150). Tracer's ultimate (Pulse Bomb) is very powerful when pulled off in conjunction with her blink and recall abilities, allowing her to drop a deadly bomb in very well guarded areas, and then escape unharmed.
Name: Lena Oxton
Difficulty: Medium
Role: Offense
Age: 26
Occupation: Adventurer
Base of Operation: London, England
Release Date: 10-27-2015
Base Hitpoints: 150
Main attacking weapon

Tracer rapid-fires both of her pistols.

Ammo:

40


Damage:

3 - 12 per hit (1 shot is two bullets) - (fall-off distance damage)


Fire Rate:

40 rps


Reload:

1 second


Headshot?:

YES




Default Hotkey:

LM
Tracer's Pulse Pistols is not the most powerful weapon in the game, but it does do an ample amount of damage. It's important to know that it takes only about 1 second for her to fully unload her pistols before it needs reloading, and she can reload in about 1 second. And remember it takes 3 seconds for a blink to recharge for use. This gives Tracer the ability to always be firing her gun twice before another blink is ready for use. With this in mind, it is vital for her to keep her pistols reloaded before blinking into battle, so she can be attacking and then escaping nonstop with minimal reloading.
Ability with cooldown

Tracer zips horizontally through space in the direction she's moving, and reappears several yards away. She stores up to three charges of the blink ability and generates more every few seconds.

Charges:

3 total


Cooldown:

3 seconds per charge


Default Hotkey:

Shift
Blink is Tracer's main way of moving around the battlefield quickly. There are a lot of uses for Blink and each map has certain strategies for how to use blink correctly for flanking, ambushing, and harassing purposes. I will cover all of these strategies later on, but it's important to know the mechanics of Blink first.
Blink allows Tracer to zip forward (about 15 feet or so) almost instantly but not quite, as there is actually a small amount of time she goes through while blinking, thus giving her enemy a small timeframe of hitting her while blinking. Tracer can hold up to 3 charges of blink, and she can replenish one every three seconds. Tracer can also quickly use up all 3 blinks at once for a very fast and long distance blink. You can see your 3 blink charges underneath your crosshair.
Blink can be used in conjunction with all your movement keys. For example, if you press left-strafe and Blink at the same time, Tracer will Blink to the left while still facing forward. If you press backwards key and Blink, Tracer will blink backwards, etc.. Tracer can also use Blink to move across vertical gaps, such as blinking from one high area to another high area bypassing a pit. Blink does not work exactly like Genji's Swift Strike, where if Genji looks up, he will Swift Strike in an upwards direction. Instead Tracer only blinks in horizontal levels. The mechanics will all become very clear once you actually start playing her and using Blink more.
Tracer's Blink ability enables her to be the fastest overall hero of getting back to the fight after dying, as she can traverse large areas of a map the fastest. She outperforms Soldier 76's Sprint and Lucio's speed aura (with Amp It Up) in this area.
Tracer can also reload her Pulse Pistols or fire while blinking. While playing, the general thing to do is to Blink around enemies, then unload a clip, then Blink away while reloading at the same time. If you are Blinking right up to an enemy you can fire while Blinking at the same time easily.
Interesting uses for Blink
Tracer can Blink past a Reinhardt Charging at her.
Tracer can Blink past Widowmaker's Venom Mine, or Junkrat's Steel Trap and Concussive Mine unharmed.
Tracer can use two Blinks to get out of Zarya's Graviton Surge.
Ability with cooldown

Tracer bounds backward in time, returning her health, ammo and position on the map to precisely where they were three seconds before.

Cooldown:

12 seconds


Duration:

1.25 seconds


Default Hotkey:

E
Currently when using Tracer's Recall, she will go back in time by 3 seconds, returning her to the state she was in 3 seconds ago, and this includes her health, ammo, and position on the map. Recall will not regain any lost armor (from Torbjorn armor packs), or shields (from Symmetra's Photon Shields).
There are a number of uses for Recall and they are:
To escape out of deadly situations. If you see a fight is not going your way and you have a good chance of dying quickly, just use Recall.
To escape from enemy ultimates. If you see yourself in the midst of an enemy ultimate and you know that 3 seconds ago you were in a safer spot, then just Recall back to it.
To refill your health. If you just took a lot of damage, simply use recall to refill your life.
Used for flanking well guarded areas. Blink around your enemy real quickly, do some damage, then use Recall to retreat back to safety.
Recall can be used as a way to scout things ahead real quickly. First use all your Blinks to get where you want to go to scout the area out, then Recall back to safety.
Using Recall removes Zenyatta's Orb of discord, which is huge.
Used in conjunction with her ultimate ability (Pulse Bomb), more info below..
ULTIMATE




Ultimate Ability

Tracer lobs a large bomb that adheres to any surface or unfortunate opponent it lands on. After a brief delay, the bomb explodes, dealing high damage to all enemies within its blast radius.

Cast Time:

1 second


Default Hotkey:

Q


Damage:

400 on contact, and also splash radius damage. There is also self-damage as well.


NOTE:

There is also an additional 5 damage instantly if Tracer sticks the bomb on a target. This initial stick can do a critical hit (headshot for 10 instead of 5)


Headshot?:

no (When Tracer sticks a Pulse Bomb on an enemy it will do an immediate 5 damage (before the explosion). This initial "stick" can do critical damage of 10 instead of 5 if stuck to the head area. The actual explosion cannot crit..)


Tracer's ultimate Pulse Bomb is very deadly, and it's one of the harder ultimates to avoid in the game. Tracer can throw a Pulse Bomb about 7 feet in front of her and will explode in about 2 seconds. Pulse Bombs are blocked by shields such as Reinhardt's shield or Winston's Barrier Projector. If the Pulse Bomb lands on a target, the bomb will stick to it, and there is not much the enemy can do about it to get rid of it. If stuck to an enemy, most will die instantly to it, only high hitpoint tanks can survive it, or heroes with certain abilities will be able to avoid it, such as the following:
NOTE: A "Drop the Beat" from Lucio, or a Particle Barrier shield from Zarya can save all heroes in the game from Tracer's Pulse Bomb (so keep this in mind).
Mei can use Cryo-Freeze to save her (even from stuck bombs).
Roadhog has enough hitpoints to survive a Pulse Bomb explosion.
Lucio can use his ultimate (Sound Barrier) to prevent his death along with any other teammates in the area, but he has to use it within a split second after Tracer throws her Pulse bomb.
D.va can use her ultimate Self-Destruct real quick to propel herself away from the pulse bomb stuck to her mech, but even then she still has a chance to die to the blast radius.
Zarya can use her Particle Barrier to save herself from the bomb. She can also use her Projected Barrier on an ally to save them as well. Stuck bombs blocked by a Particle Barrier will also give Zarya +50 power to her Particle Cannon.
Tracer - Tracer can use Recall to unstick a bomb, but Blinks do NOT work for unsticking bombs.
Reaper can save himself with Wraith Form.
Winston - His Jump Pack does NOT unstick a bomb. However at full health, he can take a full hit from a Pulse Bomb and live it. Winston can also activate Primal Rage to give him a 1000 HP to survive a Pulse Bomb.
Reinhardt - He has enough HP to withstand a full Pulse Bomb hit, but he CANNOT use Charge to unstick a bomb. Reinhardt's shield will block Pulse Bombs though.
Torbjorn - Torbjorn can survive using Molten Core, but he has to use it fast enough for it to work.
Zenyatta can use his ultimate (Transcendence) to save him. However, a Transcendence may not be enough to save his allies from the explosion, since a Pulse Bomb does 400 damage on contact.
These heroes will die to a stuck Pulse Bombs:
Genji - Swift Strike will NOT remove a stuck bomb. But Deflect does work at repelling Pulse Bombs away.
Pharah - She will die. Jump Packs will NOT save her from a stuck bomb.
Widowmaker - She will die. Grappling Hooking somewhere does NOT unstick a bomb.
McCree - McCree will die, even his Combat Roll does NOT work to unstick a bomb.
Junkrat will die.
Bastion will die.
Hanzo will die.
Mercy will die.
Soldier 76 will die.
Symmetra will die.
Strategies for Pulse Bomb
A powerful combo Tracer can do is to blink into a heavily guarded area, lob a Pulse Bomb, then Recall back to safety. This is especially useful in places such as:
Behind the Payload.
Right behind Reinhardt's Shield.
To kill a Bastion Sentry.
To kill Torbjorn's turret. Keep in mind it will not fully kill a level 3 turret.
To kill a hidden Mercy.
To go inside of Winston's Barrier Shield real quick to take out Winston or his teammates inside the shield.
An allied Zarya can use her ultimate (Graviton Surge) to clump up all the enemies together, then Tracer can go in real quick to lob the Pulse Bomb and then Recall. This is a very powerful strategy.
Tracer's Strength and Weaknesses Vs Other Heroes
Tracer's Allied Synergies Guide
News/Home | Blog | Follow | Unlock Full Guide
Overwatch Basics Guide Menu
Overwatch Hero Introductions - Basics Guide
How the Mechanics Work in Overwatch
How Headshots Work In Overwatch
Overwatch Game Modes Overview
Overwatch Health Types & Hitpoint Basics
Overwatch Terms, Abbreviations, & Their Meanings
Other Guides
Easiest and Hardest Overwatch Heroes to Master
My Hotkey Bindings For Overwatch & Why I Use Them