Winston In-depth Strategy Guide

( FP's Overwatch Strategy Guide )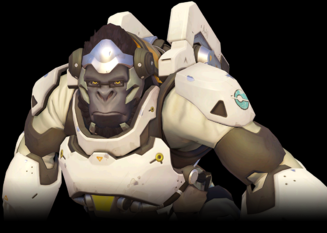 Story
Winston is a super intelligent, genetically engineered ape that was raised on the moon at the Horizon Lunar Colony with a bunch of other genetically engineered apes by a human scientist known as Dr. Harold Winston. All the other apes went mad and killed Dr. Harold Winston and declared the colony as their own. Naming himself after his beloved human caretaker, Winston didn't like this and returned back to earth to join Overwatch.
Play style
Winston uses a Tesla Cannon as his main weapon which channels a short beam of deadly electricity that has an easy auto aim associated with it. He is a highly mobile tank equipped with rocket thrusters on his back that enables him to leap around quite frequently creating chaos amongst his enemies. Winston is able to protect his team from enemy fire with his huge Barrier Projector globes. His ultimate Primal Rage turns him into a raging beast that gives him an incredible amount of health and melee attack damage allowing him to break through tough defenses.
Weaknesses
Winston's weakness is his lack of long range fire as he requires to be right up close to his enemies to do any damage to them, but that's where his leap ability comes into play. Overall, Winston is a very well rounded tank that does a good job of helping to protect his team from damage and allowing them to push towards the objective much easier.
Name: Winston
Difficulty: Medium
Role: Tank
Age: 29
Occupation: Scientist, Adventurer
Base of Operation: Horizon Lunar Colony (formerly)
Release Date: 10-27-2015
Base Hitpoints: 500 (100 of it is armor)
Main attacking weapon

Winston's weapon fires a short-range electric barrage for as long as he holds down the trigger.

Ammo:

100


Fire Rate:

20 rps (channeled weapon)


Damage:

60-65 DPS


Reload Time:

1.5 seconds


Headshot?:

no


Default Hotkey:

LM
Winston's Tesla Cannon will require less precise aiming than most other guns in Overwatch. This allows new players to the FPS scene to jump right in and not have to worry about aim precision. The Tesla Cannon does require some aiming, as you will only need to aim in the general direction of the enemy and it should connect. The Tesla Cannon can strike through and hit enemies behind shields and barriers, such as Reinhardt's shield, and another Winston Barrier, but it will not go through Zarya's Barriers.
The Tesla Cannon has the capability to hit more than one target at a time as the lightning from it can branch off to multiple enemies at once. Each branched lightning will deal the same full amount of damage, so you can potentially do double or triple the damage compared to only attacking one target. This is useful for crowd control and makes leaping towards multiple enemies at once a higher consideration.
Use melee strikes
Melee strikes can be more efficient in time sensitive situations. If enemies get down to only a slither of health left, just use a melee strike on them to finish them off quicker. Melee strikes do 30 instant damage, where as it will take almost a second of channeling with your Tesla Cannon to match that. This also means when you are about to reload, just use a melee strike first, you will do more damage in the long run.
The Tesla Cannon does have a short range and in order to use it effectively you will need to leap around often to get close to your enemies to deal damage to them.
Ability with cooldown

Assisted by his energy pack, Winston lunges through the air, dealing significant damage and staggering nearby enemies when he lands.

Cooldown:

6 seconds (This changes to 2 seconds when Primal Rage is on)


Damage:

up to 50 (AOE at landing with fall-off distance damage)


Default Hotkey:

Shift
Leap allows Winston to be very mobile, more so than most other tanks (except D.va and her Boosters). After landing from a Leap, Winston will deal up to 50 damage to all enemies in the vicinity, depending on how far away from you they are when you land. You can control the height and direction you jump by looking in the direction you want to jump to. For example, if you look straight up and then Leap, Winston will leap straight up in the air. It will take a bit of practice to get used to the mechanics of leaping.
Leaping is most commonly used for:
Chasing after enemies. Sometimes you have to think of Leap as your extension to your short range Tesla weapon, as you will be leaping quite frequently to get in range to deal damage to your enemies.
To get right up and close to strong defenses such as Bastion Sentries and Widowmakers to take them out with your Tesla Cannon.
For basic mobility to get up to higher platforms and ledges.
To get to health packs faster by leaping towards them.
To get back to the fight faster after dying.
To help push your team forward in combination with your Barrier Projector.
Ability with cooldown

Winston's barrier projector extends a bubble-shaped field that absorbs damage until it's destroyed. Allies protected by the barrier can return fire from within it.

Cooldown:

13 seconds


Duration:

6 seconds


Barrier Strength:

600 HP


Default Hotkey:

E
As a tank, Barrier Projector fits Winston's role quite well. When used, Winston will drop a Barrier Projector that is a dome like shield right at the center of Winston's character that blocks enemy fire but still allowing your allies to fire through it. If you are leaping through the air and press the barrier hotkey, it will drop from exactly where you activated the ability (not where you will land).
As soon as you place the Barrier down, the cooldown for the next one starts immediately. Because of this, you will want to use this as often as possible.
Common uses for Barrier Projector:
To protect choke points. Shielding choke points is a vital strategy for enabling your team to push forward if you are on Attack, or to keep the enemy from pushing forward if you are on Defense.
To Leap safely towards your enemy. A strong combo is to leap towards a bunch of enemies and then throw up a Barrier Projector. This will protect you from outside fire while allowing you to dish out damage with your Tesla Cannon to only a few enemies at once. This is especially useful for dealing against Torbjorn's turret or other strong defenses such as Widowmakers and Hanzos.
For use on top of a Payload. In case you didn't know, you can put a Barrier Projector on top of a Payload and it will turn into a mobile barrier that travels with the payload. This is very powerful.
Winston's Barrier does NOT block the following:
Melee attacks.
Some channeled weapons, including: Winston's Tesla Cannon, Symmetra's Photon Projector beam.
Reinhardt's Fire Strike and Symmetra's Photon Orbs. Fire Strike and Photon Orbs can actually pass through and damage everything in its path, including Winston, his barrier and anyone else behind Winston.
Enemy Barriers:
When dealing with other enemy Barrier Projectors, it's generally better to not focus fire on the barrier to attempt to destroy it but rather refocus your attention on finding enemies that are out in the open and fire at them instead. You will be wasting your time and fire power on Barrier Projectors, as they will automatically dissipate after 6 seconds anyway. Only fire at Barrier Projectors if it's your last resort (unless you are a Bastion Sentry, as a Sentry can kill it in 1.5 seconds).
ULTIMATE




Ultimate Ability

Winston embraces his animal nature, significantly boosting his health and making him very difficult to kill, strengthening his melee attack, and allowing him to use his Jump Pack ability more frequently. While raging, Winston can only make melee and Jump Pack attacks.

Hitpoint Change: 1000 (100 of it is armor) - Winston gets fully healed at use.
Duration: 10 seconds
Damage: 40 per melee strike (Strikes do AOE damage with knockbacks)
Headshot?: no
Default Hotkey: Q

NOTE:

Movement speed increases as well.


Primal Rage turns Winston into a raging beast with powerful melee knockback strikes with his fists. At use he gets fully healed along with an increase of hitpoints to 1000. His Leap ability instantly becomes available again (even if it was on a cooldown) and also goes on a much shorter cooldown of only 2 seconds (from 8 sec), this allows Winston to be extremely mobile during this time. The drawback of Primal Rage is that he is unable to put down Barrier Projectors for the duration of the ultimate. He is also unable to use his Tesla Cannon, but his melee strikes with his fists make up for that.
Although melee strikes will do AOE damage, they only do 40 damage in an area, which is not a whole lot of damage. The AOE knockback is really what the ability is all about. With powerful knockbacks, you can keep enemies off of objectives and bat them away from you and your team, even potentially knocking them into a deadly pit. Combined with only a 2 second cooldown for your Jump Pack, you can create a lot of confusion amongst your enemies and do some serious harassing at the same time.
Since Primal Rage heals you fully to 1000 HP, it's important to use this as a life saver when you are about to die and need to refill your health up immediately.
Primal Rage can also save you if you get knocked into a pit. When falling into a pit you can sometimes save yourself by Leaping back to safety, but sometimes Leap may still be on a cooldown. By activating Primal Rage you can use your Leap immediately again to leap back to safety.
Winston's Strength and Weaknesses Vs Other Heroes
Winston's Allied Synergies Guide
News/Home | Blog | Follow | Unlock Full Guide
Overwatch Basics Guide Menu
Overwatch Hero Introductions - Basics Guide
How the Mechanics Work in Overwatch
How Headshots Work In Overwatch
Overwatch Game Modes Overview
Overwatch Health Types & Hitpoint Basics
Overwatch Terms, Abbreviations, & Their Meanings
Other Guides
Easiest and Hardest Overwatch Heroes to Master
My Hotkey Bindings For Overwatch & Why I Use Them