Zarya In-depth Strategy Guide

( FP's Overwatch Strategy Guide )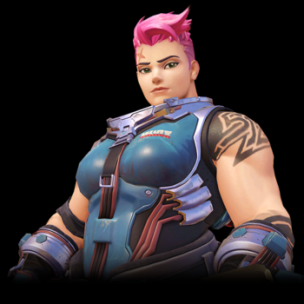 Zarya is well known for being one of the world's strongest women athletes. Later on in her competitive bodybuilding career, she decided to drop her all star status and join Overwatch to protect her family, friends, and country instead.
Zarya, being a tank, has the lowest amount of hitpoints out of all tanks. What she lacks in hitpoints she easily makes up in raw damage output with her Particle Cannon weapon. Zarya's weapon is able to harness raw energy and use it to create Particle Barriers on herself or her allies which block and absorb firepower from her enemies for a brief period of time and transfer it to her own Particle Gun to make it stronger. These Particle Barriers have many uses for keeping Zarya and her allies alive, allowing them to push forward and absorb firepower for Zarya at the same time.
Zarya's ultimate Graviton Surge unleashes a gravity bomb that draws all enemies close to it in a swirling clumped up mass that becomes extremely vulnerable to area effect damage such as Zarya's own explosive particle charges.
Zarya's main weakness is her lack of mobility as she will have a bit of trouble retreating from a losing battle or able to chase after nearly dying enemies.
Name: Aleksandra Zaryanova
Difficulty: Hard
Role: Tank
Age: 28
Occupation: Krasnoyarsk Front, Russia
Base of Operation: Horizon Lunar Colony (formerly)
Release Date: 10-27-2015
Base Hitpoints: 400 (200 of it is shield)
Because Zarya is comprised of 50% shield, it's important to keep these points in mind:
Shields regenerate at 25HP per second after 3 seconds of not taking damage.
Shields can still be healed up by healers and health packs.
Particle Cannon
(Primary Fire)

Zarya's mighty Particle Cannon unleashes a short-range beam of destructive energy.

Ammo:

100


Fire Rate:

20 rps


Damage:

75 - 150 DPS (depending on how charged up it is)


Range:

15 meters


Reload Time:

1.5 seconds


Headshot?:

no


Default Hotkey:

LM
Zarya's primary fire unleashes a short-range beam that fires out roughly about 25 feet in front of her. It acts similar to the lightning gun in Quake. The beam does not go through multiple targets as it only hits one target at a time. Shields and barriers will block the beam. It does more DPS than her alternate fire (explosive charges) and works best on single targets. If there is more than a few enemies close up you are better off using explosive charges to do area damage to them instead as it will do more DPS.
Gun Charge Strength
Zarya's Particle Cannon gets charged up and deals more damage when she absorbs enemy fire from her Particle Barriers that she can use on herself or Projected Barriers that she can put on her allies.
Particle Gun strength value is from 0% to 100%.
Particle Gun strength increases at 1% per 5 shield damage taken for weapon attacks and 1% per 2 shield damage taken from all melee attacks (this also includes Genji's Swift Strike and Dragonblade). This means that melee attacks will absorb a higher percentage of power for Zarya's weapon than normal attack weapons.
Particle Gun strength decreases at 2% per second. This means you have to keep absorbing damage to maintain your gun strength up or it will slowly dissipate over time.
There are five different indicators that show you how charged up Zarya's Particle Cannon is.
The 5 indicators that show Particle Gun Strength:
(from most helpful to least helpful)
Your crosshair becomes thicker and bolder. I find this particular one is the most visually useful in the heat of battle.
The sound of your Particle Gun will become more bolder and louder.
When charged up further it will increase the width of Zarya's Particle Cannon's beam (primary fire). Please note that the increased beam actually has a larger hit area and can make hitting targets a tad easier.
Your crosshair has a numerical value from 0 - 100.
The energy ball grows larger in Zarya's gun.
NOTE: When you get to 100% charged, Zarya will sometimes say: "Maximum charge!"
Not Charged at all (0%)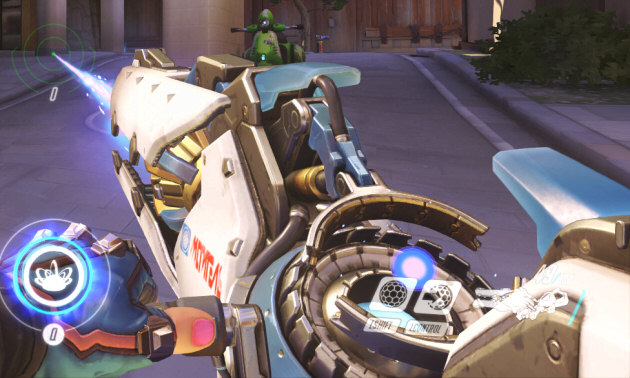 Half Way Charged (50%)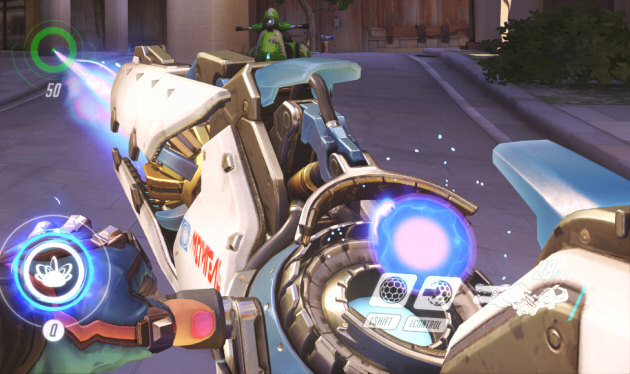 Fully Charged (100%)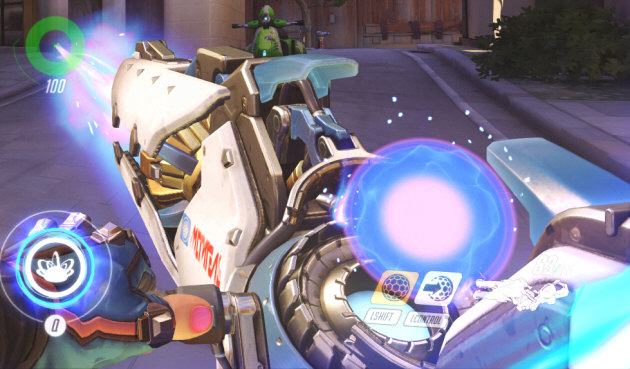 Zarya will also look like this in-game to other players:
0% Charge - 50% Charged - 100% Charged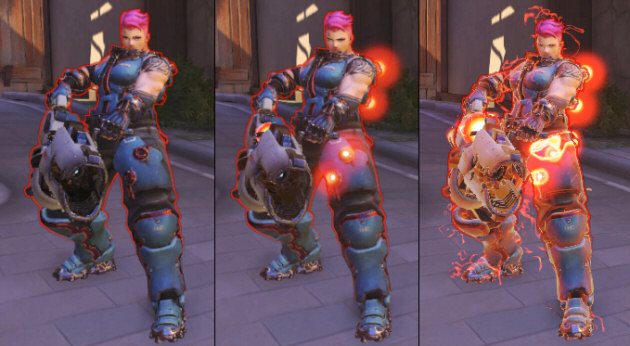 Importance of knowing how charged up you are:
When fully charged, Zarya becomes one of the greatest damage dealers in Overwatch. From 0% to 100% you will literally do twice as much damage per second. It's good to know how charged up you are so you know how much fire power it will take to kill someone. This especially helps in knowing how many explosive charges you need to lob out to kill something before moving on to another target.
Particle Cannon
(Alternate Fire)

Alternatively, Zarya can lob an explosive charge to strike multiple opponents.

Ammo:

100 (uses 25 per shot)


Fire Rate:

1 rps


Damage:

46 - 95 DPS (depending on how charged up it is)


Self-Damage:

Up to 50 self-damage (depending on how charged up it is)


AOE Blast Radius:

2 meters


Reload Time:

1.5 seconds


Headshot?:

no


Default Hotkey:

RM
Zarya's alternate fire lobs explosive charges and explodes on the first thing it hits doing splash damage. The charges fly in an ark to its destination and just like the short range beam it will also benefit from Zarya's charged up gun status, dealing extra damage the more your gun is charged up. Enemies hit by an explosive charge will deal a slight knockback. Keep in mind that the slight knockback just might be enough to knock enemies into pits if they are close to one. A lot of Control maps have many pits where you can knock enemies into them with charged shots.
The alternate fire is Zarya's means of doing damage from longer ranges. You can lob explosive charges over walls or obstacles to hit potential enemies behind them. Remember that Zarya's short range Particle Beam does more DPS than charged shots, so always switch to your particle beam for close up enemies, unless you can do a lot of splash damage with the charged shots.
Precisely aiming explosive charged shots properly will take some practice. You can practice firing charged shots in the practice range at targets very far away from you for some good aiming practice.
Drained Ammo Trick
Each shot requires 25 ammo out of a pool of 100, this means you can only fire 4 shots until a reload is needed. However, you can still fire an explosive shot even if you only have 1 ammo left. This means you can make extra use of your ammo before a reload is needed via using three charged shots, then using your short range beam for about a second, then releasing the 4th charged shot. This can give you a little extra fire power before a reload is needed.
No Headshots :(
Please note that both Zarya's primary fire and her alternate fire will not do headshots, so don't bother aiming at heads with her as it will not make a difference.
Ability with cooldown

The Particle Cannon can emit a personal barrier that shields Zarya against incoming attacks, redirecting their energy to enhance her weapon's damage and the width of its beam.

Cooldown:

10 seconds


Barrier Strength:

200


Duration:

2 seconds


Default Hotkey:

Shift
Particle Barrier is Zarya's personal shield which only last 2 seconds that blocks and absorbs damage. The Particle Barrier then transfers that absorbed damage to Zarya's Particle Cannon to make it stronger (but only temporarily). The shield only blocks/absorbs up to 200 damage.
Particle Barrier is best used when you are consistently taking damage. I have noticed a lot of new players turn on the ability immediately when they see enemies, this is not usually efficient because Particle Barriers only last 2 seconds, you generally want to use this ability right when you are taking damage. Remember that Zarya's health is comprised of 50% shield, so you can let that wither down a tad then activate Particle Barrier, it tends to be more effective that way. The same thing applies to when you give an ally a Projected Barrier (more on that later).
Particle Barrier is great for blocking enemy ultimates and other situations where high damage output could occur. I explain more in-depth when using Particle Barrier is important at the hero counters down below this guide.
Knock Backs
Particle Barriers and Projected Barriers do not fully protect Zarya (or allies) from knockbacks. If something was blocked by the bubble outside of Zarya (or the ally) he/she will NOT be knocked back. However, if the hit was done inside the bubble, Zarya (or the ally) can then be knocked back.
Ability with cooldown

Zarya surrounds one of her teammates with an energy barrier that simultaneously absorbs fire and boosts the power of her Particle Cannon.

Cooldown:

8 seconds


Shield Strength:

200


Range:

30 meters


Duration:

2 seconds


Default Hotkey:

E
Projected Barrier is very much like Zarya's Particle Barrier but can only be used on her allies. If you look closely at the stats between the two barriers, you will see that Projected Barriers are slightly more powerful by having a 2 second less cooldown, but both barriers last the same length of 2 seconds and absorb the same amount of damage. Because of the lower cooldown for Projected Barriers, you need to be continuously using this ability to protect allies and absorb damage to enhance your Particle Cannon. You will be relying on the Projected Barrier just as much as your personal barrier to charge up your Particle Cannon.
As noted above, for every 4 points of damage blocked, Zarya will temporarily gain +1% on her Particle Cannon's energy output. If she blocks 100% of a personal or projected Particle Barrier Zarya will gain +50 on her weapon power.
Projected Barrier Mechanics
Projected Barriers (and Zarya's personal Barriers) do not charge your ultimate meter directly, but they do indirectly via the increased output of your Particle Cannon's damage.
The bubble size of the Projected Barrier will be the exact same on all allies (from small heroes like Tracer to big ones like Roadhog).
Allies cannot do self damage while having a Projected Barrier on to charge Zarya's weapon.
What separates a Zarya player from a really good Zarya player comes down to how good she is at keeping up with her Projected Barriers properly. It will take some skill to constantly keep an eye out on all your allies and to give a Projected Barrier to who needs it the most. This will come with practice, but here are some tips..
Who should receive Projected Barriers:
Offensive allies that are in the midst of harassing the enemy.
An ally that is getting flanked.
An ally that is in trouble of being hit by an enemy ultimate.
An ally that is pushing forward in the front lines.
An ally that is taking damage with the Orb of Discord on them.
An allied Roadhog who just Chain Hooked an enemy into him.
An ally who just jumped or boosted right into the midst of enemy fire, such as a Winston leaping, D.va boosting, Reinhardt charging, a Pharah flying, or a Genji Swift Striking.
Most heroes in Overwatch become especially vulnerable while using their ultimate, but when they have a Projected Barrier on them, they become invincible.
These allies benefit the most from Projected Barriers while they use their ultimate:
Genji's Dragonblade
Roadhog's Whole Hog
Junkrat's Rip-Tire (while he stands still)
Soldier 76's Tactical Visor
McCree's Deadeye
Reaper's Deathblossom
Pharah's Barrage
Bastion's Tank Form
Mercy's Resurrect (she stands solid for a brief time while casting)
Particle Barriers can block infinite damage
Particle Barriers and Projected Barriers can block infinite damage from a single hit. Let me explain. Particle Barriers can block 200 damage before it disappears. If an attack does more than the barrier's strength it will not roll over to your heroes HP pool, but instead will have no effect at all. For example, Junkrat's Rip-Tire does up to 600 damage and D.va's Self-Destruct does up to 1000 damage. A Particle Barrier can block all this damage and Zarya (or an ally) will take no additional damage from these higher damage abilities, but your barrier will drop prematurely.
Don't attack enemy barriers!
This is probably obvious by now, but worth mentioning anyways. Since Zarya's barriers absorb enemy fire and then transfers the energy to her weapon to make it stronger means you need to avoid attacking enemy Particle/Projected Barriers at all costs! This will also be mentioned throughout my guide on the other hero sections to continuously remind you about this.
Turn on Allied Health Meters
By default, allied health meters are turned off for Zarya. I highly recommend turning them on (in Zarya's custom control settings) so that you will be able to make more informed decisions on who to give a Projected Barrier to.
NOTE: Because I feel like Projected Barrier knowledge is so important, I may come out with a more in-depth guide about this topic later.
ULTIMATE




Ultimate Ability

Zarya launches a gravity bomb that draws in enemy combatants and deals damage while they're trapped.

Duration:

4 seconds


Damage:

22


Range of Surge:

8 meters


Headshot?:

no


Default Hotkey:

Q


Zarya's ultimate Graviton Surge is arguably one of the most powerful ultimates in Overwatch. The ability lobs a gravity bomb similar to the mechanics of one explosive charge shot, but once it hits the ground it opens a massive ball of gravity that draws all nearby enemies to it and keeps them there for up to 4 seconds. Enemies can still use their abilities while being stuck in the surge. Graviton Surge does a very small amount of damage itself, but where this ultimate really shines is the ability to let you and your allies do AOE damage to the clumped up enemies, which can easily wipe all of them out. After clumping up enemies in a Graviton Surge you can dish out damage to the trapped enemies with your explosive charges as you will take full advantage of the AOE damage that your explosive charges can do. Graviton Surge has no effect on you or your allies, as you can walk right up to it and it will not trap you or your team, this allows your allies to get right up to the clumped up enemies to deal damage to them.
Graviton Surge also combos very well with many allied abilities and ultimates, most notably:
Zarya's explosive charges
D.va's Self-Destruct
Junkrat's Rip-Tire
Tracer's Pulse Bomb
Reaper's Death Blossom
Pharah's Barrage
Reinhardt's melee attacks
Symmetra's Photon Orbs
Bastion can easily aim in the general direction to do a lot of damage, or use his Tank form to do AOE damage.
Hanzo can launch a Dragonstrike at the mass
Because Graviton Surge is the best paired ultimate in the game, it is important to communicate with your allies that you are getting ready to use your ultimate so they will be ready to combo it with their ultimate or abilities. I recommend binding a key for "Communicate: Ultimate Status" so you can press it when you are getting close to use your ultimate.
These heroes have the capability to actually escape a Graviton Surge after getting trapped in one:
Tracer can use a Recall to escape, or two quick Blinks.
Reinhardt can use a Charge to escape.
Genji can use a Swift Strike to get out of it.
Reaper can use Wraith Form to escape.
D.va can use her Boosters to escape.
Widowmaker can use her Grappling Hook to escape.
Mercy can use her Guardian Angel ability to fly to an ally to escape out. The ally must be further away from the Gravition Surge in order for it to work.
Those heroes are the only ones (currently) that can escape a Graviton Surge, so definitely keep this in mind as this is very important information to know!
What weirds me out is some heroes do have rocket thrusters on them, but they cannot escape, such as:
Winston and his Jump Packs?
Pharah and her Jet Packs?
Some heroes have abilities that can somewhat counter Graviton Surge, and it's important to know this information.
These heroes have hard counters against Graviton Surge while trapped:
Lucio can use Sound Barrier to protect his trapped allies.
Zenyatta can use Transcendence to save him and heal his allies while trapped.
A trapped Zarya can put a Projected Barrier on a Mercy, allowing her to survive, she can then Resurrect all the dead heroes.
These heroes can partially counter Graviton Surge while trapped:
D.va can use her Defense Matrix ability to block incoming projectiles.
Mei can throw up an Ice Wall to protect from incoming enemy fire.
Roadhog can use Whole Hog to knock enemies down and to prevent them from firing.
Winston can use a Barrier Projector.
Reinhardt can put out his shield.
An enemy Zarya can use a Particle Barrier to protect herself, or a Projected Barrier on one of her allies.
Zarya's Strength and Weaknesses Vs Other Heroes
Zarya's Allied Synergies Guide
News/Home | Blog | Follow | Unlock Full Guide
Overwatch Basics Guide Menu
Overwatch Hero Introductions - Basics Guide
How the Mechanics Work in Overwatch
How Headshots Work In Overwatch
Overwatch Game Modes Overview
Overwatch Health Types & Hitpoint Basics
Overwatch Terms, Abbreviations, & Their Meanings
Other Guides
Easiest and Hardest Overwatch Heroes to Master
My Hotkey Bindings For Overwatch & Why I Use Them